I did not kill four members of my family and a farmhand, Warunge tells court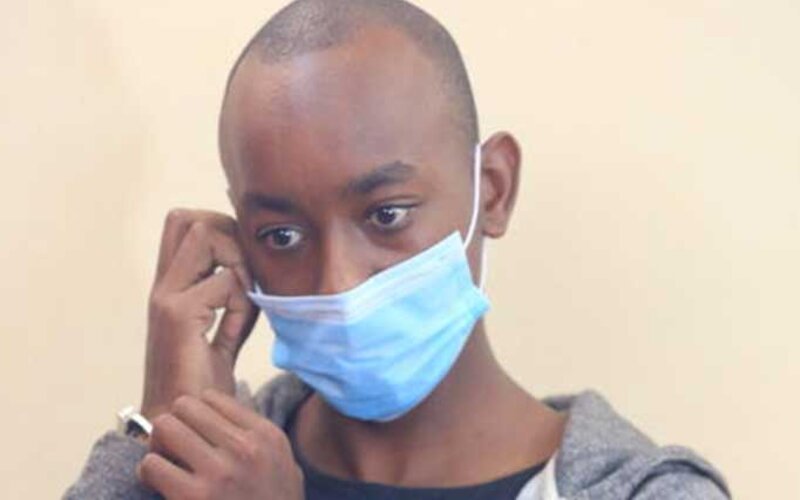 Lawrence Warunge, who is accused of killing his four family members and a farmhand in Kiambaa, Kiambu County, has pleaded not guilty to five murder counts.
His innocence plea comes months after he allegedly confessed to DCI detectives that he killed his parents on January 5, 2021 for neglecting him.
Warunge was arraigned virtually before High Court Judge, Mary Kasango, on Thursday, April 15; two days after the suspect was declared fit to stand trial following a psychiatric test.
Warunge was charged with the murder of five people, including his parents, brother, nephew and a gardener.
The 22-year-old man allegedly stabbed his 55-year-old father, Nicholas Njoroge, at least 30 times, police said.
His mother, Anne Njoroge, was also found stabbed in the family home kitchen in Karura Ka Murimo in Kiambaa.
The suspect, who was a student at Mount Kenya University, is also accused of fatally stabbing his younger brother, Christian Njenga, and his nephew, Maxwell Njenga.
Warunge also turned on the family farmhand, James Kinyanjui, whose body was also found in the compound in the morning of January 6, 2021.
On January 26, 2021, medical examinations revealed Warunge was unfit to stand trial. Another mental test, whose report was submitted on March 1, reiterated the earlier outcome, which stated the suspect was mentally unstable.
However, the April 13 report would indicate that Warunge was now fit to face court.
The vicenarian will be detained at the Industrial Area Remand Prison, pending his pretrial hearing scheduled for May 11, 2021.
Warunge's two sisters, who are the only surviving family members, were in school, when the incident occurred.
The suspect had allegedly told detectives that he had planned to wipe out his entire family.