Speaker impeachment plot fails as assembly is locked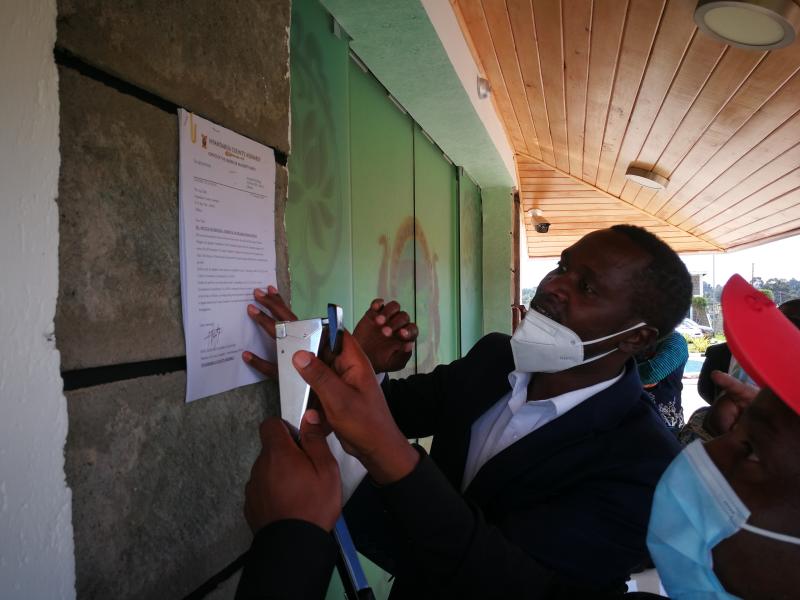 The row between Assembly Speaker Ndegwa Wahome and a section of ward reps intensified yesterday after members were locked out of the assembly.
The members wanted to serve Clerk Mukiri Michiri with a notice of motion to impeach Wahome.
However, when they arrived at the assembly armed with the motion signed by 25 out of 39 members, the group found the premises locked and assembly workers sent home.
On Tuesday, the MCAs had tried in vain to serve the notice to the clerk at a Naivasha hotel where he was attending a workshop.
Majority Leader Edinard Kingori and a host of MCAs were then forced to stick the notice of motion on the assembly gate, arguing that it was a sufficient legal way of service.
The group accuse Ndegwa of gross misconduct, abuse of public office and nepotism, among other ills.
Speaking to the Press outside the assembly, Kingori wondered why staff had been ordered not to work on a weekday.
"The Speaker has outrightly shown that he is unable to hold office. That is why we want him to leave now," he said.
But Wahome has dismissed the motion against him as malicious and a political scheme by Governor Francis Kimemia, who has in the recent past openly accused him of undermining his administration.
He noted that the move was as a result of his harsh stand of opposing how Governor Kimemia's government was being run.
But Kimemia has distanced himself from the wrangles, saying he had nothing to benefit from Wahome's misfortunes.