Man abducted from hospital, killed over suspected theft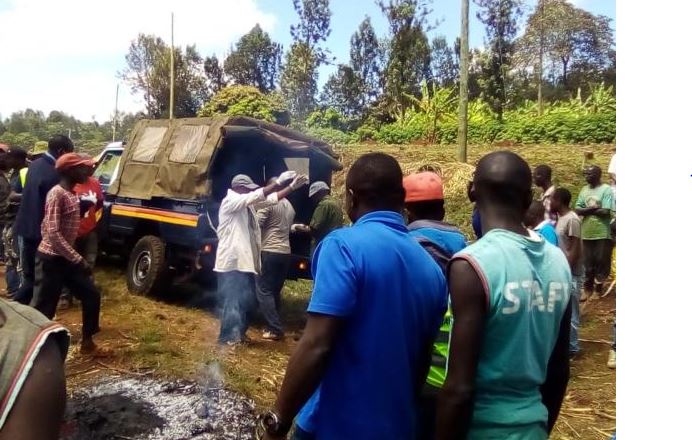 Police in Kirinyaga are investigating an incident where a man was on Saturday killed and burnt by a mob (above) for allegedly stealing motorcycles.
The man was reportedly dragged from his hospital bed in Kimbimbi Sub-county hospital by the mob to Kwa Kariba area where he was lynched.
Kirinyaga East DCIO, Millicent Ochuka said the deceased was "suspected to be behind the theft of five motorcycles".
He was undergoing treatment at the hospital after he sustained serious injuries from a mob beating on Thursday night for the alleged theft.
"What we have gathered is that he was beaten then compelled to confess to bodaboda riders on where he hid the stolen bikes," said the area DCIO.
"He was later freed and taken to hospital for treatment."
The riders regrouped the following day (Friday) after failing to find the bikes from the hide out they had been directed to and returned to the hospital to abduct the suspect.
Ochuka believes the assailants overpowered the hospital's security guards and carried off the patient out for lynching.
She however said the hospital has not reported to police on the patient's abduction.
"We will seek information from the hospital to establish if indeed he (suspect) was forcefully taken from the facility so we can get his identity," said the DCIO.