Ex-convicts train children artisan skills to curb crime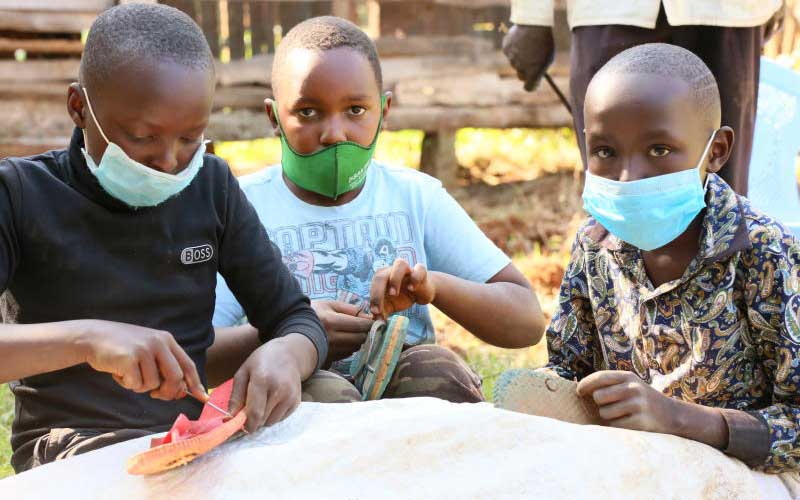 As you enter Chris Halfway Home in Karatina, Nyeri County, a bold writing on the wall that reads, "Creating a crime free society" welcomes you.
At the facility, Christopher Mwangi, a former convict, trains 40 children between ages six and 17 artisan courses he learnt in prison to prevent them from falling into crime.
Mwangi, who was released from jail four years ago, trains the children on tailoring, shoe-making, planting, weeding, cooking, bicycle repairs, and painting, among others.
He was sentenced to nine years after he was convicted for fraud in 2010, but he served a seven-year jail term and was released on presidential pardon in December 2016.
"I was accused of producing fake State documents like title deeds and identity cards. I resolved to play my part in reducing crime in my village because I would not want to see someone suffer like I did," said Mwangi.
Bad parenting and idleness
The ex-prisoner identified bad parenting, idleness and lack of knowledge especially among the youth as the root causes of crime.
Initially, the 55-year-old wanted to establish a home for former convicts who are either reluctant to go back to their families for fear of stigmatisation, or who were rejected after being released from prison.
Mwangi came up with the name Chris Halfway Home - a temporary abode for the former convicts. Currently, the home hosts about 10 former convicts who also educate villagers on the dangers of crime and train children artisan skills for free.
"We want them to understand what crime means and the consequences. A child may not know that snatching personal items like handbags or mobile phones could be treated as robbery with violence that attracts a life sentence," Mwangi said.
"We conduct counselling sessions for the children before embarking on activities of the day. We want them to be self-dependent," he added.
The day begins at 9am with counselling and talks by professionals and religious leaders before the children move to their respective sections for training.
When The Standard team caught up with them, all team leaders in the various sections were busy training and instructing the learners. Here, it's a case of trainers of trainees among themselves under the supervision of Mwangi and his team.
In the kitchen, Elizabeth Wanjiku, 13, trains four girls how to prepare food, clean, cook, serve and light a fire. Ruth Wangui, nine, expressed excitement at learning how to cook chapati. The youngest in the team was a six-year-old girl.
The home is a hive of activities with some children irrigating the farm, others learning how to make clothes, prepare seedbeds and cook food with most ingredients harvested from the farm.
"I learnt how to repair shoes in four days and I'm training other children who are interested in the skill. I have so far trained four children," said 11-year-old Lincoln Kinyua.
Kinyua's mother, Leah Wairimu, said the centre will help nurture talents as children learn life skills in line with the Competence-Based Curriculum. The children are trained on skills of their choice.
"It's really exciting when my son comes home thrilled after training his school mates how to repair a shoe. He is lately active at home and that excites me," said Wairimu.
Dennis Wachira, 13, who was assembling bicycle parts, said he was interested in bicycle repairs so that he can engage in the venture to raise money to start rearing rabbits. He also has a team of three boys and a girl he trains.
Anita Muthoni, a Class Six pupil was excited after learning how to use a sewing machine to make masks and repair clothes. Grace Gathigia, a parent whose three children are being trained at the centre lauded the programme, saying it prevents the children from being idle.
Out of the agricultural activities, Mwangi said they make money from selling the vegetables and tree tomatoes to residents. He regretted that he has been forced to turn away some children due to inadequate resources and space.
"We want to inspire the society through our experiences in jail for the sole reason of mending before it's too late. Most prisoners live a life of regret when they consider how their actions could have been prevented," he added.
Lawrence Wangware, an ex-convict, trained on carpentry, masonry and tailoring. He is passing on these skills to the children.