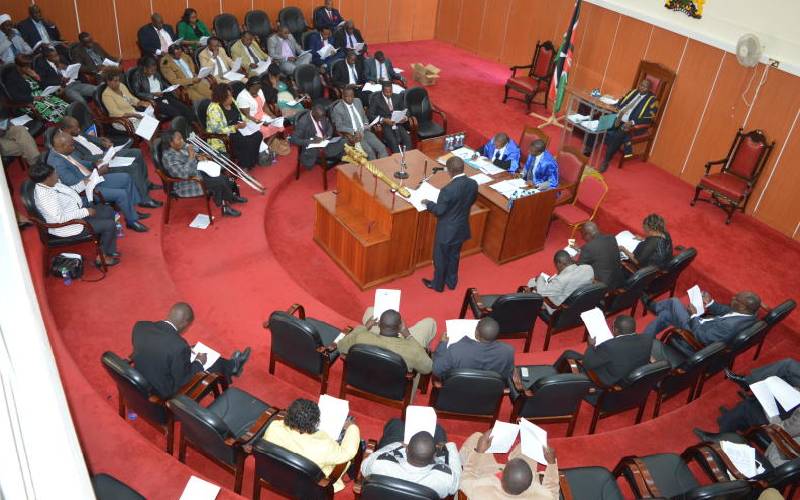 Members of the County Assembly are fine-tuning an impeachment motion against Speaker Stephen Ndicho.
The ward representatives led by outspoken Kiuu MCA Dan Ngugi said they were putting final touches on the ouster motion to kick out Ndicho over alleged abuse of office and misuse of assembly proceedings for his selfish gain.
Ngugi said several appointments in the assembly have been skewed in favour of Ndicho's cronies and relatives, citing the controversy surrounding the hiring and firing of three individuals for the position of the clerk under unclear circumstances.
"We have lost confidence in the speaker that's why the current impeachment motion, which is at an advanced stage, is unstoppable. He can't be taking the assembly in circles by initiating the hiring and firing of clerks for selfish interest," said Ngugi.
The MCA said the speaker had resorted to intimidation and threats against MCAs opposed to his leadership style.
He further claimed that Ndicho had already gained control of the Human Resource, Finance and Procurement departments through "his cronies".
The Kiuu Ward MCA said he has already secured 60 signatures in support of his motion, and that he will table the same before the House anytime this week.
But in a rejoinder, Ndicho said he was ready for any action the MCAs were planning against him.
Direct concerns
He said the disgruntled MCAs should direct their concerns to the County Service Board.
On accusations that he employed his daughter as a personal assistant, the speaker said it was his prerogative to decide who to employ.
"About transferring staff members from the county assembly to the executive, I want to tell members that once you are employed by the government you can work and be transferred anywhere in this country," he stated.
The speaker also dismissed claims he promoted unqualified staff.
Ndicho said one of the clerks was due for retirement this month but took terminal leave last month, which prompted an urgency in his replacement as the office cannot be left in a vacuum.
He said he was aware some MCAs were up in arms against him because of an impending audit report, which has implicated some members and senior staff.
An MCA who sought anonymity said the chances of the impeachment sailing through were slim.