Nyahururu's primary school drop-out invents unique tuk tuk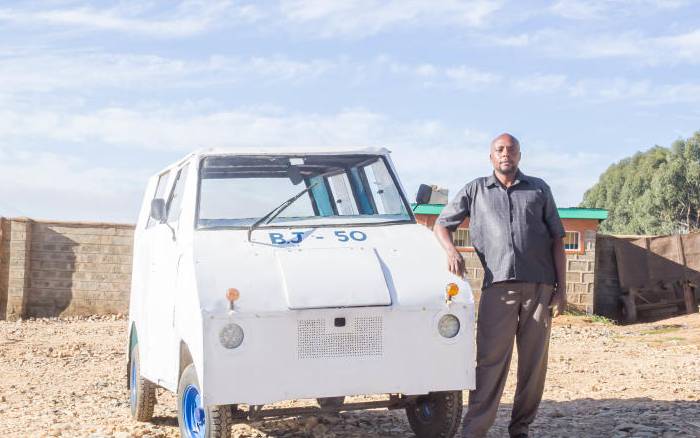 When Trade and Industrialisation Cabinet Secretary Betty Maina toured a Nyahururu-based company that is assembling four-wheeled tuk-tuks, it was the culmination of a dream for Samuel Njogu.
The 39-year-old artisan, who considers the project his brainchild, could hardly believe his ears as Maina said she was pleased with the progress she had seen on the assembly floor.
"This is the way to go for our local innovators. We will head back to the office and see the way forward. For sure, the company deserves a licence as one of the local vehicle assemblers," she said.
Njogu had known they were onto a winner two months ago when the Kenya Bureau of Standards (Kebs) gave Saagak Technology the go-ahead to start mass production of the vehicles.
"The two units inspected by the chief mechanical and transport engineer complied with all the applicable requirements set out in the evaluation criteria," said Kebs Managing Director Bernard Njiraini in a letter.
Some of the areas that Kebs scrutinised included design, proper use of certified spare parts, and road testing.
Many Kenyans are familiar with the three-wheeled tuk-tuks that buzz around towns ferrying one or two passengers. Njogu said his vehicle, which has been named BJ50, is different due to its large load capacity.
"The BJ50 has four wheels and it can carry up to four passengers. But it is designed more towards transporting goods."
But how did Njogu, who dropped out of school in Standard Eight, come up with the idea that could be a game changer in rural transport?
In 2013, he says, he had no job or money. Desperation drove him to assemble a motorcycle from locally available parts and become a boda boda operator, which allowed him to support his family.
But it was not until 2015 that the idea struck him to build a vehicle that could ferry more passengers. "The boda boda business had been thriving and I thought of building a tuk-tuk, which would make me more money."
Once again, he sourced for parts from scrap yards and garages and assembled the first BJ50, which he used to ferry residents in Nyahururu town.
Innovation programme
In 2018, he met Laikipia Governor Ndiritu Muriithi who helped him join the Laikipia Innovation Programme that had been launched by the county government to train budding entrepreneurs and help them market their products.
"The county government offered to fund my project and I was introduced to engineers from Dedan Kimathi University for formal training," said Njogu.
When a plan to start mass production was mooted last year, he says, Sagaak was registered with the help of local businessmen and the county government.
The company has 15 employees who have all benefited from training by the university, which has also seconded an engineer, Hassan Dekut, to offer technical support to the team.
Dekut said he oversees everything from design to the finished product. "These are innovators who were using jua kali methods. We want to change that so they can adopt a professional mindset. The vehicles they make must have a modern outlook."
James Mathenge, a metal fabricator, said they appreciated the guidance given by Dekut.
"Everybody knows their role, from mechanical and electrical to finishing the body," said Mathenge. "I am in charge of the body-building stage. Once we are through with what we call the body skeleton, those in charge of the engine come in even as the electricians continue with their work."
He said every vehicle has to be tested on the road before being spray painted.
Mathenge also revealed that to cut down on costs, they were sourcing items such as tyres, ball joints and shock absorbers locally.
Njogu said the BJ50 is powered by a 150cc motorcycle engine to reduce fuel consumption.
According to Njogu, the cost of making one tuk-tuk is Sh300,000 thus they would have to sell one vehicle for Sh450,000 to cover other production expenses and make a profit.
But with tuk-tuks going for between Sh300,000-Sh350,000, wouldn't he be priced out of the market?
Kimani Gakenia, one of the local businessmen who helped Njogu register the company, said that after they were given a local assembly licence, the company would be exempted from paying income duty on items such as engines and other spare parts.
"We know there will be a challenge since our price is high but once we get this licence, we will definitely lower the price so that we can compete with the rest of the world," said Gakenia.
He added: "We are here to support local innovators. Most of them are youth who do not have the financial muscle to buy the equipment needed to venture into mass production."
Gakenia said the company had a target to produce five of the motor-taxis in the next three months. "We have the materials so it is all systems go."
Njogu said that apart from Governor Muriithi, other public figures who have backed the venture include Agriculture Cabinet Secretary Peter Munya and Royal Media Services chairman Samuel Macharia.
Muriithi said his administration supported innovators so that the country could utilise products from her own manufacturers.
"We offer training support to the innovators as well as fund them. We also market their products," he said. "So far, these projects have created over 30,000 jobs. Our aim is to create over 300,000 jobs in the next two years through local industries."
The governor, however, challenged the State to reduce red tape that was hindering the growth of innovation. He cited a case in which the State was yet to issue registration plates for the BJ50 tuk-tuk.
Saagak Technology Chief Operating Officer Wallace Kariuki echoed the sentiments, saying such hindrances would discourage young innovators.