Traders count losses as Kenya Railways demolishes structures for repair of line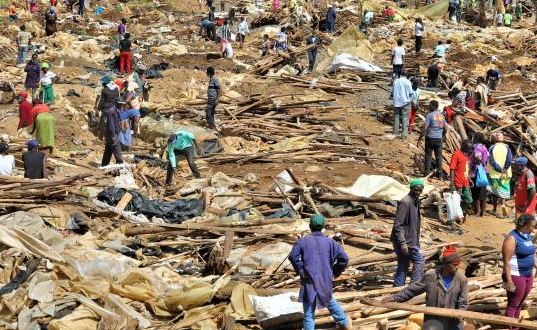 Traders who were operating along the railway line in Karatina, Nyeri are counting losses after Kenya Railways demolished structures to pave way for rehabilitation.
Some traders who were protesting the demolitions argued that the public area set aside for their relocation was not enough to accommodate them all.
The demolitions came six months after Kenya railways issued an eviction notice to encroachers in January this year.
"This is a major blow to us because most of us will have to rebuild the structures yet we are experiencing hard economic times. There will be scramble for space at the new site," said John Kioni, a trader.
Mary Wangechi, another trader said they were ambushed on Saturday morning when they woke up to cranes taking down the structure they operated in for decades.
Initially the plan to evict traders led to a standoff between Nyeri leaders, and the corporation argued that the traders operated from the site for over 40 years.
However, Nyeri Governor Mutahi Kahiga allocated the traders a section near the town to ensure business went on even as the rehabilitation of the line continues.
The demolitions started at Chaka where traders were relocated to another site within the town while the exercise also went on in Nanyuki on Thursday.
Kenya Railways Managing Director Phillip Mainga said the demolitions would go on until the end of next week so as to hasten the repair exercise.
Mainga said there are more than 10 permanent properties on the railway lines reserve, adding that they have canceled the title deeds and any illegal documentation attained to encroach the line reserves.
"We have started with the temporary structure since there are many. The permanent ones will be brought down in the course of next week," said the director.
Karatina is one of the sections that have high encroachments with investors setting up premises within the station and adjacent reserves.
"This land we are repossessing will be leased out to organisations that will be supporting the operations of the train services. We expect there will be warehouses and companies investing in these areas and they will need space for their business," he added.
Mainga said they have done fencing in Nanyuki and the allocated site for construction of a new station in Chaka.
Refurbishment of the line started in January this year with much of the work done along the Nanyuki-Kiganjo section.
The Sh2 billion project is expected to spur growth and reduce the cost of production for business by transporting bulk goods at cheaper prices.
"We will be doing the final touches in the next three weeks much of the work being rehabilitation of the stations," he added.