Alex Ndiritu says he had no ill motives on White House post, sought justice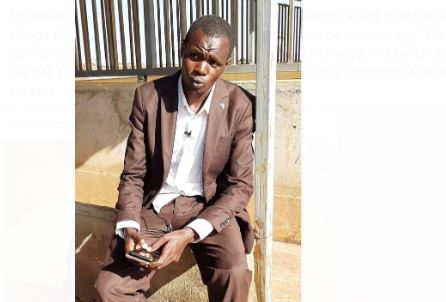 When 27-year-old Alex Ndiritu (pictured) replied to an online broadcast by CNN about the protests in the United States of America, on Thursday, May 28, 2020, he didn't expect it would attract the attention of the whole world.
The protests from the angry Americans were about the death of an African-American, George Floyd, who is believed to have been murdered by the American police in Minneapolis, USA.
It's for this reason that the young Ndiritu decided to express his discomfort through an online platform, Twitter. "Burn White House now…we are not turning back…" read his tweet.
But Ndiritu says that he had no ill motives when he was tweeting, and that he was only raising alert to demonstrators that a time has come for all human races to be treated with some dignity. "It was out of anger, and just the way they took my tweet serious, it's the same way I expected the American government to respond to George's murder" he said.
Alex Ndiritu still believes that demonstrations are the only way the governments of today can understand. He says that he is a Pan Africanist, and he will keep fighting for the rights of the black people, and trusts that this could be the end of racism in the world.
"When you see people reacting this way, it's about justice, and it means they are tired of what is happening. So this could probably mark the end of racism in the world" he added.
Since Alex tweeted on Thursday, he has received a lot of feedback, both positive and negative. Some have encouraged him to keep on the fight while others have been criticizing him for inciting demonstrators in the USA. Some have even asked him to pull down the post but he is adamant that there is no reason for that.
"I cannot withdraw what I posted because it's already viral. And even if I withdraw, it will not bring George back to life, what we need right now is to look for a solution to end racism not pressuring me to withdraw my post" he said.
He has also been receiving phone calls and text messages from strange numbers. This has made him worried about his safety, and has since stopped receiving friend requests on Facebook, but he still hopes that everything is okay.
Moments after Alex tweeted, demonstrators headed to the White house with unknown intentions, something that triggered the US government to deploy police to protect the White house against the protesters.
Alex Ndiritu, the man who trended at number one in Kenya for the better part of Saturday, hails from Tetu Sub County in Nyeri County. He says that he is inspired by other pan Africanists like the late Mwalimu Julius Nyerere of Tanzania, Bobi Wine in Uganda and Julius Amalema of South Africa. Tetu is the same sub county that produced the Kenya's freedom fighter, Dedan Kimathi and the Nobel prize winner Wangari Mathai.
The determined Alex told The Standard that he is an author having written pathways to Success, a book he says he wrote immediately after his High school education. He is also involved in some community projects like making of interlocking bricks back in the village.
However, he noted that Kenya also needs revolution, saying that there are things that happen in this country that should not be happening. "We are going to address some of the issues happening in Kenya in a better way until we get a solution, we want people to understand the importance of humanity" he said.