Locally made ventilator machines to hit the market next week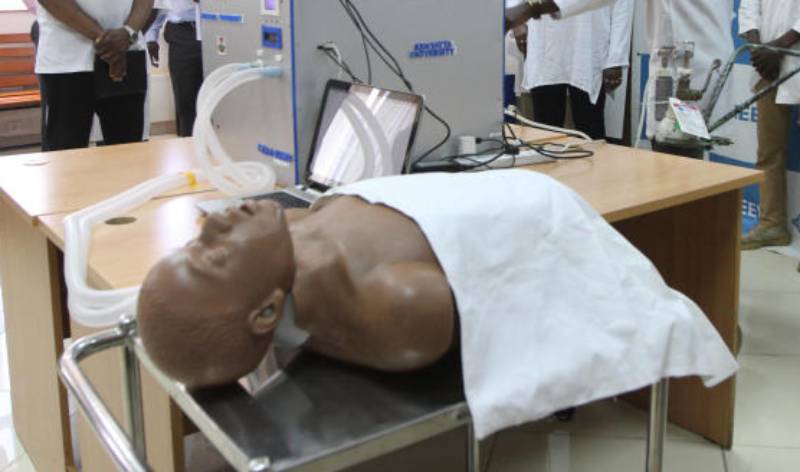 Ventilators being developed by Dedan Kimathi University of Technology in partnership with the County Government of Laikipia will be ready by next week.
The two institutions have invited the Kenya Bureau of Standards, the Kenya Poisons and Pharmacy Board, Kenyatta National Hospital and the Biomedical Equipment Unit at the Ministry of Health to inspect the prototype at the university's Nyeri Campus before they are released to the market.
So far, they have made 10 sets awaiting verification by relevant authorities.
"We had to agree on basic standards for ventilators so that they can be approved by relevant bodies. Laikipia Conty will of course be the first to benefit," said Laikipia Health Executive Lenai Kimario.
Ventilators, which have been on high demand across the world following coronavirus outbreak, come in handy when the disease has caused the lungs to fail.
Many health facilities lack the capacity to handle patients in need of critical care.
Dedan Kimathi University Vice Chancellor Ndirangu Kioni said producing the much needed gadgets locally was a great milestone in the war against the pandemic.
"Many lives will be saved with our ventilators. Once approved by the relevant bodies, we will enhance capacity in production," added Prof Kioni.
Dr Kimario said Laikipia County government had already placed an order for 10 machines, which will go to different hospitals in Nyahururu and Nanyuki.
He said the prototypes were 95 per cent complete with a few things remaining, such as controls and alarms, a job that can be done in two days.
"There is a huge difference between a ventilator and respirators that most people seem to be branding as ventilators. Although the two help a patient in breathing, ventilators are way much advanced," he said.
Kimario said a respirator is a mask-like device that helps in filtering out virus particles as one breathes in, so they don't get infected.
According to the World Health Organisation, some 80 per cent of people with Covid-19 - the disease caused by coronavirus - recover without needing hospital treatment. But one person in six becomes seriously ill.
In these severe cases, the virus causes damage to the lungs, causing the body's oxygen levels to drop and making it difficult to breathe.