Couple holds Sh40k wedding on groom's birthday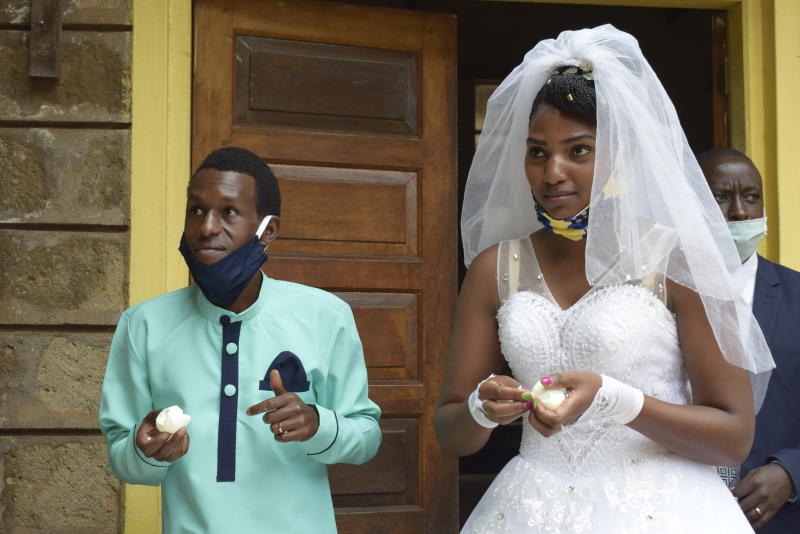 A couple in Meru defied the gloom and uncertainty brought on by the coronavirus pandemic to celebrate their love in a low-key wedding.
Godfrey Mutwiri, 29, and Grace Nkatha, 24, had set April 18 as their wedding date and they were not going to change their minds if they could get away with it. And they did.
"I had told her to pick a date and she chose April 18, which also happens to be my birthday," said a beaming Mr Mutwiri after the wedding at Annexe Hall in Makutano, Meru town.
The lovebirds, who have been dating for five years, overruled their family and friends who had been asking them to postpone the wedding.
"When we were under pressure to postpone the wedding, I remembered my father telling me that life could not be postponed. Since we did not know when this pandemic would end, we decided to proceed," said Mutwiri.
Their 45-minute wedding ceremony was attended by the couple's parents, their best couple, a pastor and his wife, and two bridesmaids.
Until April 14, the young couple had settled on their friends who live in Samburu as their best couple. However, financial constraints brought on by the ongoing crisis meant the Samburu couple could not make it to Meru for the wedding.
"I called Eric Munene, who is a good friend and my spiritual mentor for 10 years, to ask what I should do. To my surprise, Munene and his wife Mercy Nzuki readily offered to step in and become our witnesses," said Mutwiri.
When Mutwiri, a Kiswahili and CRE teacher at Thuura Boys Secondary School, and Ms Nkatha were initially planning their wedding, they had a budget of Sh240,000.
However, they ended up spending less than Sh40,000 after having to limit the number of guests in line with government directives on social gatherings.
Although the couple will not be able to go on a honeymoon just yet, Nkatha said she was overjoyed to be finally married to the love of her life.
"How extravagant a wedding is does not matter; what is important is the marriage itself," she added.
Mutwiri's sister, Deborah Karimi, had promised the couple an all-expenses-paid honeymoon in Mombasa, but due to travel restrictions to the coastal city and the closure of hotels in the wake of Covid-19 infections, the couple will instead enjoy each other's company at home.
The hall where the two lovebirds said their vows was largely bare of decorations, and guests sat a metre apart, with face masks on, but that did not diminish their joy as they witnessed the unique celebration.
Although the couple said they would have liked to celebrate their nuptials with all their friends and relatives, they were happy that they had been able to save a lot of money in the process.
"This virus has come with a lot of discipline for Africans. We are social beings, but this virus is teaching us that the marriage itself is more important than the wedding," said Mutwiri.
The couple plans to host a celebration on their first anniversary with friends and family.
The guests in attendance were served a banana, cupcake, boiled egg and soda each.