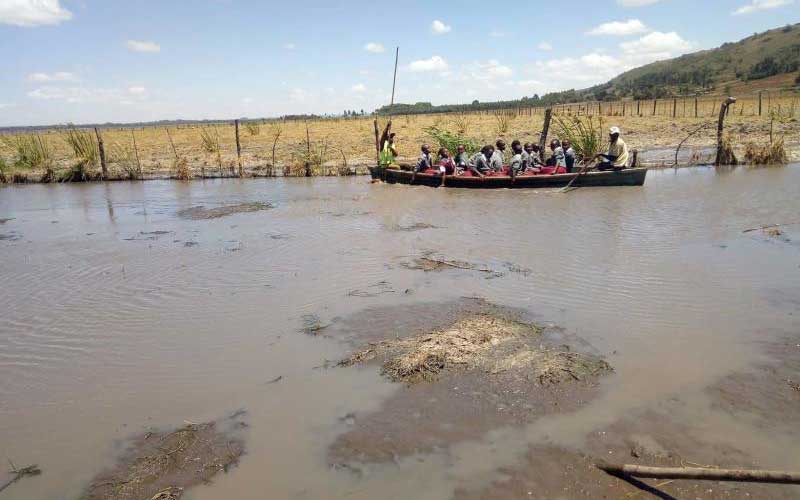 At the foot of the famous Aberdare Ranges in Nyandarua County, lies one of the few fresh-water lakes in Central Kenya - Lake Ol Bollosat.
The lake is known the thousands of hippos and more than three hundred species of birds that call it home.
It is also where River Ewaso Nyiro sources its water as it meanders to the Nyahururu Thompson Falls and further downstream, besides being a source of water to thousands of families in Northern Kenya.
Being the only lake in the region, it has been a tourist attraction and a source of revenue for the county government.
But the unwelcome threat of its extinction is causing jitters among locals and players in the tourism and environment sectors.
The massive destruction of the Aberdare Forest and human encroachment of the riparian land around the lake is at the centre of the blame game.
In the last one decade, Ol-Bollosat has lost its water surface area from about 10,000 hectares to just 3,000 hectares. The rate at which the lake is drying up is putting government officials and residents around the lake at logger heads. Thousands of birds have migrated from the lake, with the hippos suffering a massive population decline. It is said that a hippo dies each day at Lake Ol-Bollosat.
"The number of tourists has reduced by half in the last three years. It is now unthinkable to invest in the tourism sector within this area," says Joseph Kinyua, a hotel owner in Nyahururu town. The Nyandarua County Government is now blaming the locals and other stakeholders of encroaching on the Aberdares forest and the lake's riparian land.
In a recent tour of the lake, top county leadership led by Water and Environment Chief Executive Milcah Wanjiru decried the rate at which the forest had lost its cover. She ordered all those who had planted eucalyptus trees near the lake to cut them down and illegal settlers evicted.
A committee comprising representatives from National Environmental Management Authority (Nema), Nyandarua county government, Ministry of Lands and the Ministry of Environment has been formed to chart the way forward.