Maina Kamanda discloses how they plotted Waititu's downfall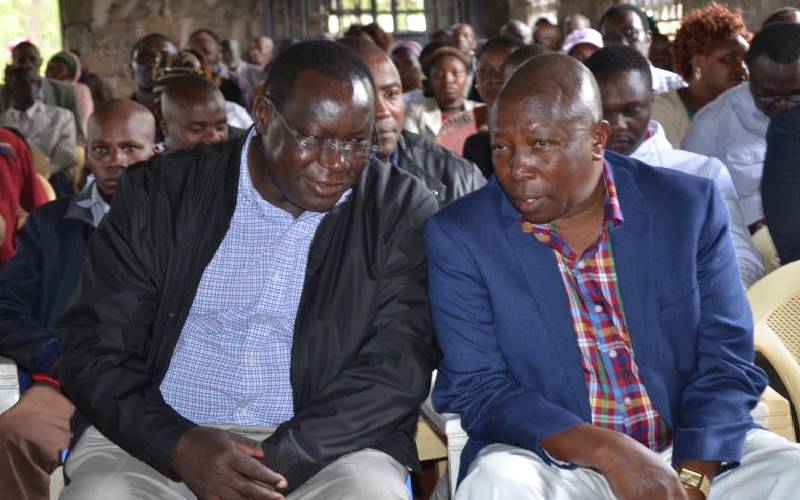 Nominated MP Maina Kamanda let the cat out of the bag when he claimed that he was behind former Kiambu Governor Ferdinand Waititu's impeachment.
Speaking during the swearing-in ceremony of Governor James Nyoro on Friday, Kamanda disclosed that he attended several strategy meetings with Kiambu MCAs to plan the impeachment.
"I was with Nyoro and the MCAs planning on how to remove him (Waititu) and I want to thank the MCAs for doing a good job," he said.
The MP claimed that they held several meetings to plot Waititu's ouster after it emerged that he was looting the county.
"We met several times to strategise on how to approach the issue and at long last the MCAs have shown they are brave men and women just like Kamanda," said the MP.
Kamanda said he knew the former governor will not be a good governor and warned Kiambu residents against electing him, but they ignored him, claiming Waititu has become wealthy since becoming governor.
"He used to come to me to borrow campaign money, but he all over sudden very rich owning properties all over Nairobi including Runda," he claimed.
Kamanda also slammed the senators who voted to protect Waititu during the Wednesday impeachment, saying they were Tangatanga sympathisers sent by their master to protect corruption and impunity.
"Those who were trying to protect the former governor are Tangatanga smypathisers sent by that man and you know him," said Kamanda.
He congratulated Nyoro after his oath saying the change was good for the county.
Nyoro was sworn in as the third governor of Kiambu in a colourful ceremony skipped by Waititu and his supporters.
The event took place following a notice in the special issue of the Kenya Gazette and the County Gazette published late on Thursday and signed by the Kiambu County Secretary Martin Mbugua as a requirement by law.
The former adviser to the government on matters Agriculture and Policy officially replaced his boss with whom they have been involved in a power struggle.
Waititu was impeached on Wednesday by the Senate with Speaker Kenneth Lusaka gazetting the impeachment and his removal hours after the House passed a motion to that effect.