Murder most foul: Soldier was ordered to support his 2 children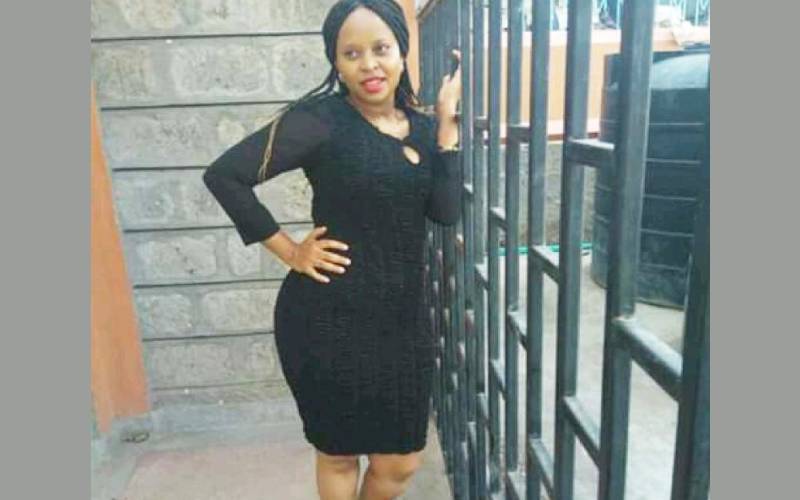 The soldier who is being held by police in connection with the murder of his estranged lover and two children had planned to attend his daughter's birthday.
Major Peter Mugure had asked Joyce Syombua to bring Shanice Maua, 10, and Prince Michael, 5, to Laikipia Air Base in Nanyuki so that they could catch up before Shanice's birthday on November 1.
Shanice was to celebrate her 11th birthday during the visit with her father, who trained as a civil engineer at the University of Nairobi.
Those who know 34-year-old Mugure, who was raised in Nairobi and attended Mwangaza Primary and Upper Hill Secondary schools, say he had a troubled relationship with Syombua.
Syombua's mother, Elizabeth Malombe, claimed that a few of Mugure's relatives were opposed to the union and discouraged him from getting married to her daughter.
"After they separated, they (relatives) went to collect his bags from the house he was living in with Syombua. They allegedly told her that he had told them to collect everything that belonged to him from that house," said Ms Malombe.
Syombua's friend, Farrizanah Katengu, told The Standard that Mugure had not seen his children for a long time.
"Syombua said that Mugure told her he did not want to appear like a stranger to the children during the birthday party. He asked them to visit him so that he could spend time with them," said Farrizanah on the telephone.
Farrizanah said that she was Syombua's classmate at St Bernard Secondary School in Kayole and by the time they were sitting their Kenya Certificate of Secondary Education examinations in 2009, they had become best friends.
Close relationship
This close relationship meant that the two women often confided in each other.
The relationship between Mugure and Syombua also started when she was in St Bernard's, with Farrizanah saying that the two got married immediately after Syombua finished school.
"She got pregnant with Shanice but they separated after eight months and Syombua went back to her mother's house in Kayole," said Farrizanah.
The friend said that Syombua, who worked at a bakery in Kayole, later got pregnant with Michael.
Farrizanah said that Mugure had once denied siring Michael, which prompted the mother to seek legal intervention for child support.
"A DNA test showed that he was the biological father of Shanice and Prince Michael. He was ordered to pay for the children's food and school fees," said Farrizanah.
She told The Standard that Mugure was unhappy with the court ruling that ordered him to pay child support after Syombua reported him for neglecting his children.
Farrizanah's description of the troubled relationship between Mugure and Syombua appeared to corroborate Malombe's story about her daughter's rocky union.
Domestic issues
A colleague of Mugure who requested anonymity revealed that Mugure, who hails from Lari in Kiambu County, had built a family house in Ongata Rongai.
"They had domestic issues and it disturbed him. But he never looked distressed in public. He was acting normal," said the source.
The source, who works with Mugure, described him as humble and claimed that he may have wanted to reconcile with his estranged partner.
"I know he had asked Syombua to get back together and she was willing because she loved him," the source said.
Syombua, Shanice and Michael went missing on October 26, one day after visiting the soldier at his workplace in Nanyuki.
The three bodies were found tied with ropes, stuffed in gunny bags and buried in a shallow grave in Kilimo in Thingithu.
Syombua's mother said she wants to be given the bodies of her daughter and grandchildren, which are at the Nanyuki Teaching and Referral Hospital mortuary.
"I want to bury them in Kitui but I cannot afford to take them from Nanyuki to Kitui. I really need help. I am a single mother and I depended on her (Syombua)," she said.
Yesterday, homicide detectives from the Directorate of Criminal Investigations headquarters joined their colleagues from Nanyuki in looking for evidence and collecting various samples at the scene where the bodies were found.