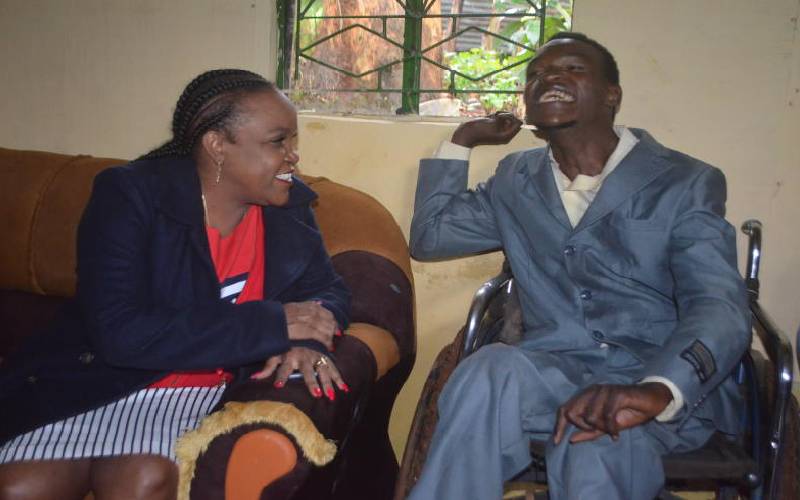 A 22-year-old man has ditched street life after being gifted a house by Kirinyaga Woman Rep Wangui Ngirichi. The three-roomed house couldn't have come at a better time for James Mwendia who suffers from cerebral palsy.
Mwendia who uses his toes to chat on the mobile phone with Ngirichi through the help of someone to hold the gadget was smartly dressed in a new suit when he was being handed over the three-roomed stone house.
After losing his mother in May this year, Mwendia was forced to drop out of school and soon found himself in the streets of Kiamtugu market.
While donating water pipes to various women groups from Ngariama Ward Ngirichi spotted Mwendia in the crowd that had attended her function while on a wheelchair.
"I pushed through the crowd to have a word with him, I empathised with him because the condition had severely attacked his vital body parts. I decided to build for him a modest place to live in," she recalled yesterday.
During the handover ceremony, area residents hailed the Woman Rep for the gesture
On top of the new house, Mwendia will also be placed on a Sh5000 monthly stipend for upkeep.
She has instructed technicians to install electricity in the new house in two days.
The house will also be connected with piped water and a modern toilet.
The beneficiary is the last born in a family of five children who did not get any formal education due to poverty.