Four swept away after rains pound Meru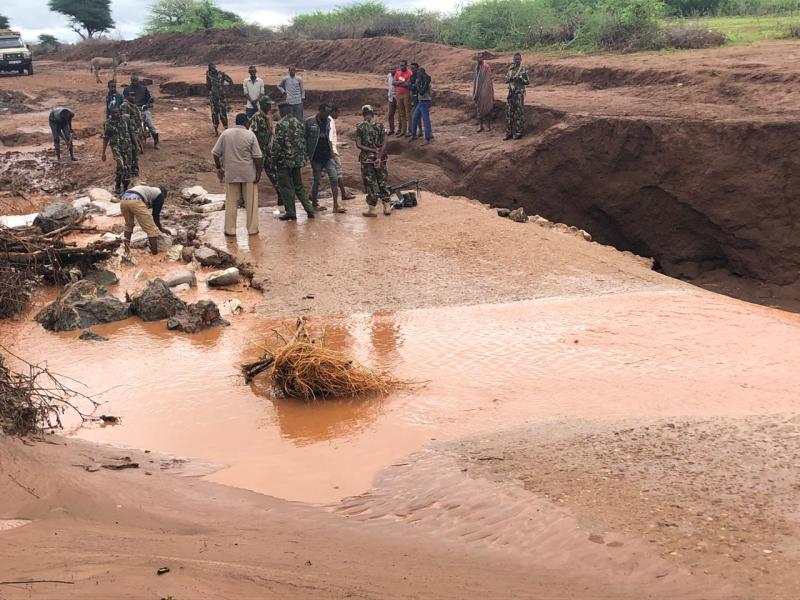 Four people died after a heavy downpour in Meru County on Wednesday evening.
Three bodies were recovered in Buuri sub-county yesterday while the fourth body was found in Karegeria village in Imenti North.
Residents of Gitimene in Naari found the bodies of two men and a woman that had been swept 400 metres from a building they had been sheltering in at Gitimene shopping centre.
Two of the victims were identified as Boniface Muriungi, 15, who was studying at Miugune Vocational Training Centre, and James Karani aged 25.
Jamleck Kimathi, a resident who said he had sought shelter from the rain with the victims, narrated how he narrowly escaped death after he left the area when water levels started rising.
"They had told me the rain would stop in a few minutes but I watched them being swept away as they struggled to avoid debris," said Mr Kimathi.
Lucy Kiogora, a resident, said she had gone to the farm to assess the damage when she stumbled on the bodies.
Naari chief Francis Rimberia said the bodies were recovered at 6am in an operation conducted by the fire and rescue services and Kenya Red Cross.
Head of the rescue services Joseph Njoroge warned residents to avoid crowding in places with a lot of deep water.
Meanwhile, Meru County Red Cross Director Diana Gakii confirmed that the body of 40-year-old Wilfred Mwirigi was retrieved from mud in Imenti North sub-county.
The four bodies were moved to the Meru Level Five Hospital mortuary.
Separately, in Marsabit County, scores of families were displaced and dozens of livestock swept away by flash floods in Moyale constituency after a heavy downpour.
The Uran-Sololo, Dabel-Moyale and Kinisa-Moyale roads were also rendered impassable, cutting off transport between Moyale and Sololo towns.
Marsabit Governor Mohamud Ali said the heavy rains had caused major damage and appealed to the national government and non-State actors to provide aid.
Mr Mohamud said residents of Uran, Obbu, Butiye and Golbo wards were the hardest hit.
He spoke after visiting the areas to donate food to affected families. "In Walda alone, 2,977 goats, 760 cows and seven camels died," he said.
In Murang'a County, Gerald Rungare lost 400 tea bushes after a mudslide hit Kairo village in Mathioya on Wednesday night.
County Meteorological Services Director Paul Murage said the rains will continue for the next two months.