Woman recalls moments before mother's killing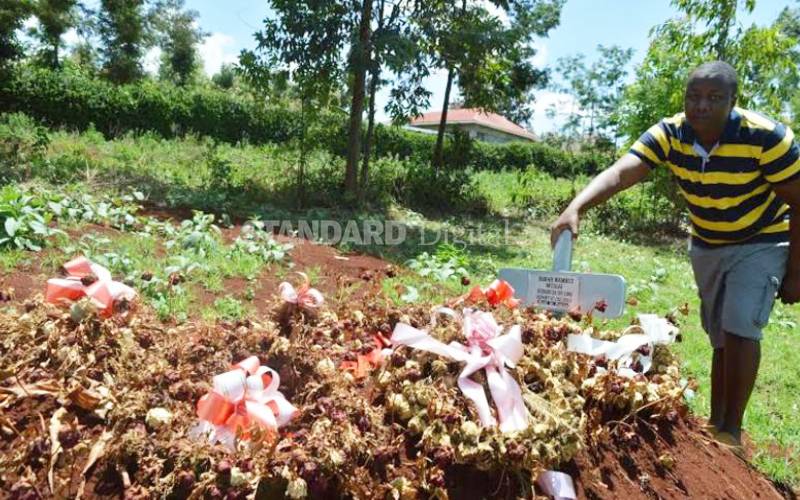 A woman narrated to a Kiambu court her last encounter with her mother moments before she died mysteriously while in the company of her lover.
Josephine Njeri recounted in court the tense moments between her mother and the alleged lover.
Ms Njeri told Kiambu Principal Magistrate Grace Omodho that there was more than met the eye in the death of her mother Sarah Wambui Mungai.
The witness said she received a text message from her mother to open her mobile money shop at Laini shopping centre on February 6, 2016, since the latter would be travelling to Mai Mahiu.
She said her mother and a man identified as Kennedy Kahochio, who she (mother) allegedly had a relationship with, returned from Mai Mahiu at around 3pm and they ate packed lunch together.
The witness was testifying during an inquest probing the circumstances that led to the mysterious death of Wambui on February 7, 2016.
The court heard that he building where the M-Pesa shop and the club were belonged to Kahochio.
Njeri informed the court the man then called her mother through his phone and told her to go upstairs at the Loli-Pop bar, where they stayed for about 30 minutes.
"She later came back crying. She sat down and seemed frustrated. I kept asking her what was wrong, but she never answered," she told the court.
Moments later, Njeri said her mother hurriedly told her to pack up, including the money. This, she said, was unusual.
"My mum and Kahochio took me home. They were not talking and I could tell something was amiss," she said.
She indicated she left them in the car, where they stayed for some time before the car later sped off.
On February 7, in the morning, Njeri recalled seeing a car pull up at her grandmother's house, which was just next to theirs.
She said shortly thereafter, she was called. That is when she was told her mother had died after falling down the stairs of the club.
The prosecution promised to call 16 witnesses to testify in the matter. The hearing will continue on October 24.