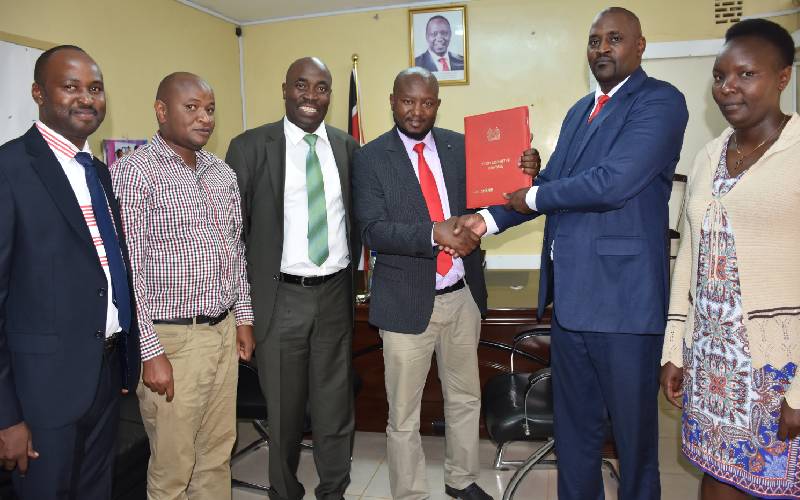 Kariti MCA Joel Wagura is the new Kirinyaga County Assembly Speaker following the resignation of David Githanda.
Wagura who was Githanda's deputy will serve in an acting capacity until the position gets a substantive person, according to the Assembly Clerk Kamau Aidi.
Wagura, a second term MCA, said the new responsibility will not affect his constitutional mandate to represent, legislate and oversight the county executive.
"Having deputised Githanda for the last two years, I learnt a lot on how to preside over the assembly's proceedings while discharging my duties as an elected ward rep," he said.
Wagura who is said to be non-confrontational could be a blessing in disguise for the divided Assembly.
Read More
"He has what it takes to unite our divided assembly," one of the MCAs said, adding that his to unite people will come in handy for the MCAs.
Wagura promised to discharge his new responsibility diligently as he took the speaker's instruments of power in the presence of the Majority Leader Kamau Murango.
Also present were two assembly service members Eric Muchina and Dr Agnes Gatama.
Githanda resigned from his position on July 31 citing personal reasons, leaving the crucial office vacant.
He, however, stayed on until August 15 within which he expected the County Executive to have found a suitable successor.
During his temporary stay, one Francis Waweru Muchiri went to court and obtained orders blocking Githanda's resignation before withdrawing the petition two weeks later.
Yesterday, Wagura told the Standard Digital that he was already in Nairobi attending his first official assignment with colleagues from across the country.