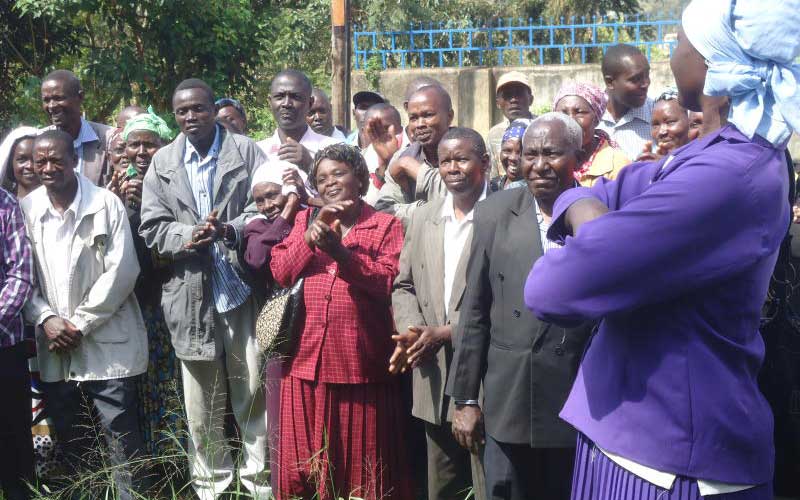 When Murigi Njogu steps out of his house near Kakuzi farm in Murang'a County he pauses and, instinctively, checks his pockets.
From its depth he fishes out a white, slightly crumpled piece of paper, smooths it and shows it to us. The paper bears his name, vehicle registration number, the dates and reason for his movement.
For residents living in villages near the expansive farm, moving from one village to the next comes with the irritating inconvenience of requesting access to roads cutting across Kakuzi.
But they want none of that. Murigi reckons it is comparable to the Kipande System, a colonial registration system that curtailed the movement of Kenyan natives.
"Our movement is very limited, we have to produce a pass whenever we need to move about, how is that different from the colonial Kipande?" Murigi poses.
Yet without a gate pass, he would be barred from using any of the four motorised roads within Kakuzi Limited: Kwa Stima to Mangamate, Mangamate to Upper Hill, Kitito to Kitito Factory and Kitito to Kakuzi.
The request he showed the Sunday Standard dates back to December 2018, when he needed to use the Kitito to Munyu route to move to and from his home in Gaichanjiru.
For close to 30 years, communities at Kangangu and Mangoto villages which neighbour the expansive land in Murang'a County, have been at loggerheads with the company.
Kakuzi is engaged in livestock farming; growing and selling of tea, pineapples, avocado and macadamia.
In the protracted battle, the residents say they have been locked out of key amenities such as schools and hospitals due to the company's decision to close public access roads.
Relevant Act
On March 1, six groups made up of residents from surrounding villages scored a major win when the National Lands Commission (NLC) published a gazette notice ordering Kakuzi Ltd to surrender all public utilities on their land including schools, markets, police stations, hospitals, public road access, way leaves and easements to the national and count governments.
But their claims extend further than access roads and public utilities; Kitito community IDPs, Kinyangi squatters, Kituamba Kaloleni IDPs, Gathungururu self-help group, Kihinganda group and Gaichanjiru self help group are laying claim on the 39,323 acres the company owns, insisting their ancestors were dispossessed.
The High Court on April 1 issued temporary orders stopping execution of the gazette notice after Kakuzi applied to quash the NLC orders.
Through their lawyers Kaplan and Stratton, Kakuzi are arguing that NLC's recommendations are illegal due to contraventions in the Fair Administrative Action Act.
Nevertheless, another group of petitioners have filed a suit to compel Kakuzi to comply with NLC recommendations to surrender public utilities within its land. But, Kakuzi, in a response to queries by the Sunday Standard, provided sections of a report by Murang'a County Surveyors office commissioned by the High Court in 2015, which said all roads followed the survey plan.
"…access on public roads as described in the plans (of the mentioned parcels of land) has not been restricted since all roads followed the alignment as depicted in both alienation plans and subsequent filed survey plans. The roads were accessed by vehicles as at the time of survey," said the report.
The report explained that some of the contested roads were privately owned by Kakuzi. A spokesperson from the company, said they had constructed various community roads and footpaths to assist the neighbouring community.
"Through our CSR initiatives we also invest in upgrading and maintaining a number of different community roads. …Over a number of years Kakuzi has developed a road on its own land for this community (Kangangu village) to use. We continue to work in partnership with the county and leaders on access issues and are dealing with requests by the community for various road improvements," Kakuzi said.
Last week, another association of residents identified as Kakuzi Division Development Association filed a suit seeking to prevent Kakuzi from blocking or restricting members from accessing public utilities. In his affidavit, petitioner Stephen Kuria Mbugua says Kakuzi has declined to surrender public utilities to national and Murang'a county governments, three months after recommendations by the commission.
"The company has enclosed the public utilities within its premises and treats them as private, depriving the petitioner access to public amenities, yet they are meant for public purpose," read part of the affidavit before the High Court.