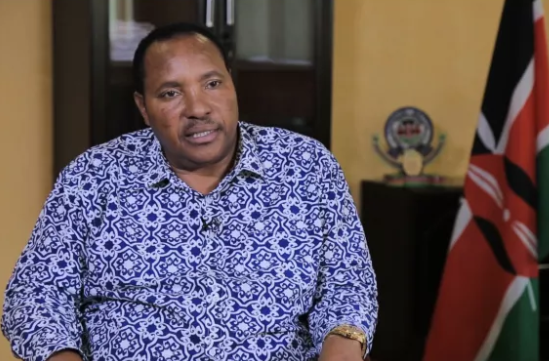 Ethics and Anti-Corruption Commission detectives investigating allegations of graft in Kiambu County Government on Thursday morning raided the Nairobi and Kiambu homes of Governor Ferdinand Waititu.
The officers went to Waititu's homes in Runda, Kiambu and Garden estate where they ransacked them for documents.
The officers said they would later take the Governor, his wife, and daughter to Ethics and Anti-Corruption Commission offices to Integrity Centre for questioning over claims of graft.
Waititu was at his Runda home when the team pounced.
Officials said apart from Waititu, 15 other county officials were targeted.
Read More
Waititu has been on the radar of EACC over claims of graft and his sudden wealth in the city. The commission has been conducting a lifestyle audit on Waititu and says they have gathered crucial information that they are now using as the basis of their investigations.
KRA is also investigating if he has paid his taxes in the past years. Waititu has denied claims of corruption and insisted his property was legally acquired.
A fortnight ago, Waititu was at pains to explain to the senatorial Public Accounts and Investments Committee how his government had budget lines for South Sudan Peace process, free education and Statehouse and remuneration for presidents.
He said the lines were sneaked into the budget by his enemies and was notaware of them until that moment.
Similar anomalies have been noticed in the Kitui and Kakamega budgets kicking up a stink that has seen the Council of Governors demand an explanation from the Treasury.
On Wednesday, the Auditor-General Edward Ouko said the corruption being witnessed in the country is as a result of a poor budget-making process that has seen looted billions being disguised as genuine allocations, the Auditor General has said.
Speaking during the launch of a report dubbed State Capture, Inside Kenya's Inability to Fight Corruption by Africa Centre for Open Governance (Africog), Auditor General Edward Ouko said the budget-making process has been completely abused.
Mr Ouko said the process is now equivalent to the phenomena of State capture, where corrupt individuals have identified loopholes within its fabric and use them to loot.
He called for a review of the entire process in light of a rejuvenated clamour for constitutional change.
"From where I sit, I would bring in the theory of budgeted corruption," said Ouko.
Recently, Waititu refuted claims that he had awarded his family tenders worth hundreds of millions.
"That is a big lie," he said. "I want people to know that even before venturing in politics 20 years ago when I was elected councilor, I was already driving a Mercedes limousine and a Range Rover besides owning a palatial home in Nairobi and running 25 lorries on the road," he said.
Governor Waitititu supports the Tanga-tanga faction of the ruling Jubilee Party seen as coalescing around Deputy President William Ruto against Kieleweke-- the other faction that supports President Uhuru Kenyatta and ODM leader Raila Odinga.