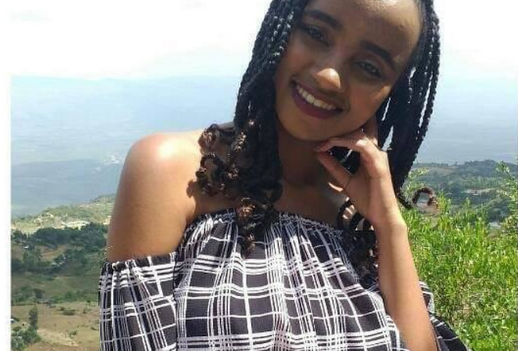 The late Ivy Wangechi (pictured) will be buried in Othaya Constituency, Nyeri County tomorrow (Thursday).
Women in Nyeri County have launched a social media drive in honour of the late Ivy Wangechi to highlight the recent spate of violence against women in the country.
Ms Waruguru Kiai and Wanjru Mugo are calling on the public for a candlelight vigil in Nyeri town ahead of the late Wangechi's funeral.
The late Wangechi was a sixth-year medical student at Moi University who was hacked to death allegedly by her childhood friend after she rejected his advances.
Read More
Waruguru Kiai said the vigil was to remind the country that women are dying and there is no justification for the femicide.
"As a country, there seems to be an attempt to justify the deaths of young women which is unacceptable. These are human beings and there is no reason anyone should take a life," she said.
She added that there was an attempt to normalise the death of women by coming up with excuses as to why they deserve to die yet every life is precious.
"Women's lives matter, and there is no reason why anyone should take a life no matter the reason given," she explained.
The vigil was scheduled to take place between 7pm and 10pm Wednesday at the Nyeri Central Business district with those invited asked to carry a candle.
"Wangechi was a human being, and nobody deserves what happened to her, anyone willing to join us in solidarity for the cause is welcome," she said.
Women leaders also voiced their concern in light of the reports of femicide in the country.
County MPs Rahab Mukami (Nyeri), Sabina Chege( Muranga), Faith Gitau ( Nyandarua), Joyce Korir (Bomet) and Maragua MP Mary Njoroge called on parents and elders to offer advice to the youth to avoid the relationship tragedies that lead to death.
Speaking in Nyeri town at Nyamachaki PCEA Church, Ms Chege noted that there was an attempt to intimidate young women by justifying their murders when relationships turn sour.
"It is painful and sad to imagine that a young woman can be murdered in broad daylight by a young man and the first thing that some Kenyans do is label her names such as 'slay queen' and attempt to justify it," she said.
She noted that young girls and women were being intimidated and abused as young men choose to put a price on the value of a girl's life and love.
"Just because you bought a cup of tea for a woman, does not mean that she now owes you anything. Young men have to be advised that you cannot buy love and affection from women," Ms Chege warned.