Contractor linked to the NYS scam loses road contract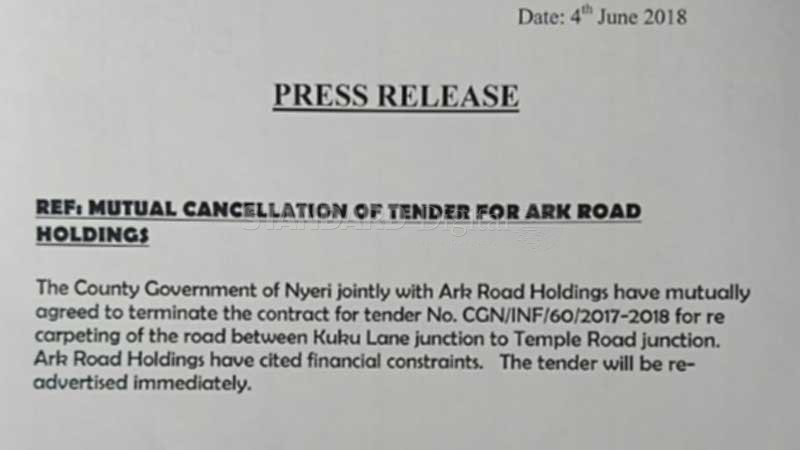 Mystery surrounds the last minute cancellation of a road rehabilitation tender in Nyeri awarded to a company under investigations in the ongoing National Youth Service (NYS) saga.
The Nyeri County government issued a statement saying the tender awarded to Ark Road Holdings to repair one of the major roads in Nyeri town had been terminated by "mutual consent."
The tender worth over Sh16 million was awarded to the company last month and was supposed to start work immediately.
It is not clear whether the listing of the company as a player in the NYS saga by the Director of Public Prosecution (DPP) informed the move but sources revealed that the backlash the county government received from residents may have sealed the move.
Ark Road Holdings was among the company listed by DPP as being one of the entities under investigation for receiving money from NYS.
In a press statement, Nyeri Deputy Governor Caroline Karugu said the decision to terminate the contract to award to the company was mutually agreed by the two parties.
The contact was to re-carpet a section of the road from Kuku lane junction in the Central Business District (CBD) to Temple road junction, downtown at a cost Sh16.2 million.
Karugu noted that the Company was pulling out of the deal 'due to financial constraints'.
"The county government jointly with Ark Road Holdings have mutually agreed to terminate the tender No CGN/INF /60/2017/18," part of the statement read in part.
The Deputy Governor added that the tender will be re- advertised immediately.
Speaking to The Standard, Karugu said the county was also baffled by the move by the contractor to withdraw, noting the county government has since accepted the decision.
"We are also asking ourselves the same question why the contractor bid for the tender when they were aware it had no capacity to undertake the same," she explained.
She said the first thing she saw on her in-tray, Monday morning was a letter by the by Ark Road indicating its willingness to terminate the work.
Mr James Wamiti who identified himself as a partner in the company confirmed that the company withdrew from the job 'due to public interest'.
"We felt that it will not be prudent to go on with the work without public support in the wake of the NYS saga. We therefore informed the county government that we do not intend to proceed with it," said Wamiti.