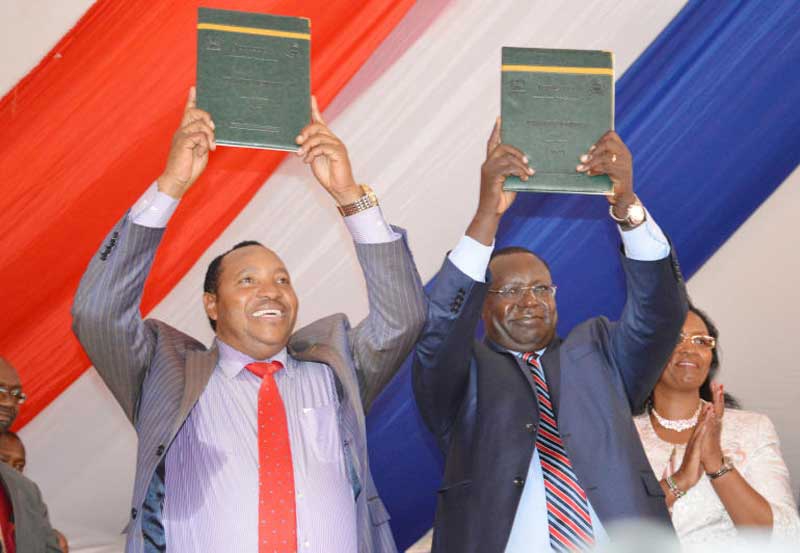 The leadership row that has been simmering in Kiambu County pitting Governor Ferdinand Waititu against his Deputy James Nyoro has finally blown.
For several months speculation has been rife in the county that Mr Waititu and Mr Nyoro were not in good terms.
During his first interview to talk about his fallout with his boss yesterday, Nyoro said he had gone through "torture and hell" at the hands of Waititu.
Nyoro said at some point he was forced to work from a corridor. He said besides, he was kept out of the running of the county's affairs and had to persevere being driven in a faulty car. He said he had decided not to sit and watch as the county "heads in the wrong direction due to poor leadership".
"Enough is enough. I have to stand up and be counted by pointing out that the way the county is being run is not the right way," said Nyoro.
Read More
Success story
Nyoro said the county had a good manifesto, which if implemented to the letter would see the county become a success story. He, however, accused Waititu of killing the vision they had for the county when they came into office nine months ago.
Nyoro, an agricultural expert, said nine months since they took over county leadership, nothing has been done to revive agriculture, which was one of their key campaign pledges.
"About 60 per cent of Kiambu residents are farmers. We promised to revive coffee, tea and dairy farming and ensure the county was food secure. Nine months after we took over, nothing has been done. When I bring suggestions on the table on how to revive or improve agriculture, they are trashed by the governor," he said.
Nyoro claimed the governor had been running the county without involving him and the County Executive Committee Members, as required by law.
"What we are witnessing in Kiambu is nothing but a one-man show. The governor does not consult before making key decisions. Since we came into office nine months ago, I have only been invited to one Cabinet meeting," he said.
He pointed out the ongoing rehabilitation programme for alcoholics, dissolving of eight water companies and merging them into one; declining to renew land lease for Delmonte Kenya Limited and construction of a new dumpsite at Nachu, in Kikuyu Constituency, as some of the issues that his boss had implemented without proper consultation.
"The law is very clear that public participation must be done before any project or law is passed. What the county has been doing is just nothing but cosmetic public participation. Due diligence needs to be done before projects and policies are implemented in order to avert any negative implications," said the deputy governor.
Nyoro also lashed out at the County Assembly, saying it had failed in its role of offering oversight to the county executive.
He alleged that the assembly had gone to bed with the executive, as MCAs were now in charge of implementing some of the county projects.
"The House speaker has become a disciple of the executive and the assembly has become like a branch of the executive. You cannot expect the MCAs to offer objective oversight to the same executive. They should know their mandate is purely representation, oversight and legislation," he said.
Assembly Majority Leader Antony Ikonya, however, refuted claims that the assembly was being controlled by the governor.
He said as MCAs, they were fulfilling their oversight role well and were, in fact, holding the executive to account.
Ikonya, who is also the Kiambu Township MCA, called on residents to stop confusing cordial working relationship with being controlled. "What we are doing is objective oversight. We don't want a repeat of the previous regime where MCAs were always fighting with the governor," he said.
As a solution to the current debacle, Nyoro proposed the formation of a special team similar to the one in place in Nairobi as a way out.
He said despite the frustrations he alleged, he would not resign from his job, but fight from within to ensure "sound running" of the county is restored.
Been sued
Already, the county government has been sued by a group of residents over the dissolution of the water companies and merging them to form Kiambu Water and Sewerage Company Limited.
Kiambu Liquor Welfare Association has also sued the county over the recently-enacted Kiambu County Alcoholic Drinks Control Act, 2018, that the governor is using to fight illicit brewers.
Waititu is also at loggerheads with a section of the leaders over the former's rehabilitation programme of 5,000 alcohol addicts, who he has roped into the county's payroll, with each getting Sh400 a day.
Nominated senator Isaac Mwaura has termed the programme a scheme to steal public money in the name of fighting illicit brew.
Similar sentiments have been expressed by County Woman Representative Gathoni Wamuchomba, Senator Kimani Wamatangi and Thika MP Patrick Wainaina.
Efforts to get a comment from Waititu over the matter were fruitless, as he was said to be in a meeting in Nairobi. He did not respond to our text messages on the allegations raised against him and the county government.