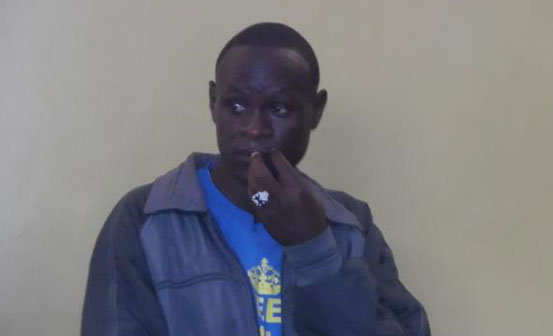 A man who confessed his role in last year's killing of a high school principal has been jailed for seven years.
Joseph Kariuki Njuguna alias Karis was handed the sentence by High Court judge Joel Ngugi in Kiambu Thursday.
Kiru Boys High School principal Solomon Mwangi Mbuthi went missing on November 6, 2016. His badly mutilated and decomposing body was found in a coffee plantation in Juja, Kiambu County, a few days after his disappearance.
Mr Njuguna had confessed to being part of a gang hired by the slain principal's wife, Jane Muthoni, to commit the crime.
In a shocking revelation in January, Njuguna confessed to participating in Mbuthi's death, giving a blow-by-blow account of the murder.
In the 10-page confession that also placed Ms Muthoni at the murder scene, Njuguna pleaded guilty to a lesser charge of manslaughter in a plea bargain arrangement that saw him agreeing to be a prosecution witness.
In his ruling, the judge described the principal's murder as "by all accounts murder most foul, blood chilling and brutal that captured the mood of the nation".
He said even if it was evident that the accused had a minor role in planning the murder, was a first offender, was remorseful and pleaded guilty at the earliest opportunity possible, he still participated in "a murder most savage and cold blooded".
"The wanton disregard for human life as exhibited by the accused person warrants a custodial sentence. The brutal murder was executed as the deceased was put in a smelly gunny bag and hanged from a tree," said the judge.
Justice Ngugi ruled that it was evident the accused was not directly involved in the planning and execution of the murder, terming him a reluctant participant who did it for money.
He however faulted the accused for doing nothing to prevent the murder, even after being aware that there were plans to kill the principal two months before.
"It is troubling that not one time for the five months he had the information did he exhibit any pangs of conscience to prevent the murder. He just went on and sold his soul for pieces of silver," he said.
The judge however praised the accused for refusing to take part in the actual killing and frustrating the death plot several times.
"The charge of manslaughter normally has a sentence of between 10 and 15 years. However, after weighing all mitigation and aggravating circumstances, I hereby sentence the accused to seven years' imprisonment," ruled the judge.
He declined to hand the suspect a non-custodial sentence as had been requested by state counsel Catherine Mwaniki, the suspect's lawyer John Njuguna and his family, saying it was inappropriate for the offence committed.
Njuguna fought to control tears as the judge read out the sentence.