Kiambu identified as potential disaster zone due to a surge in faulty buildings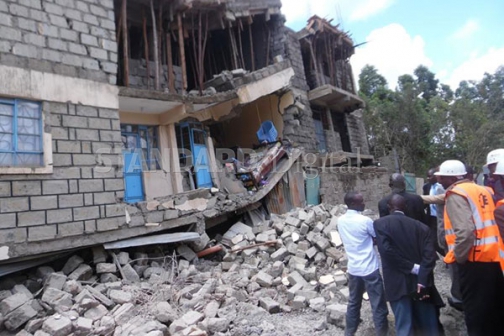 Kiambu County has been identified as a potential disaster zone in terms of faulty buildings that do not meet set standards.
The secretary in-charge of National building inspectorate department at the Ministry of Lands and Urban Housing Moses Nyakiongera said the state of a relatively big number of buildings in the county was wanting.
Speaking at Kimbo in Juja where a building collapsed on Wednesday, Mr Nyakiongera called on developers to desist from taking shortcuts resulting to shoddy works saying at the end of the day it would come back to haunt them.
"We have identified Ruaka, Ruiru and Juja as potential disaster zones due to the many buildings that do not meet the set standards. The situations have been accelerated by volatile ground in terms of soil that many of these buildings are built on," said Mr Nyakiongera.
He said his Ministry in conjunction with the county government and National Construction Authority will beginning Monday next week embark on an audit that will see all complete and buildings under construction tested to authenticate their suitability.
"We will not relent of the campaign to ensure that all faulty buildings that have not met the set standards are identified and their construction halted in order to safeguard on the welfare of the people," he said.
He said the government through the county government will from next week issued an order barring the use of black sand mostly from Naivasha and Mai-Mahiu in the construction of high-rise buildings since it was not of good quality.
The secretary called on the county governments through the physical planning departments to pull up their socks and ensure buildings coming up in their jurisdictions followed the set guidelines and standards.
He said the government had already audited 4,000 building with 20,000 more earmarked in the neighboring Nairobi County.
At the Kimbo building incident, the owner of the building who was living in the house with his family escaped unhurt. However, his new vehicle which had been parked at the parking in the ground floor was extensively damaged
Peter Kimani a neighbor said they had a round bang in the wee hours of the night only to realize it was a building that had collapsed upon coming out to check what was going on.
"We were greeted by a lot of dust outside and screams from our neighbors who were calling out for help. Fortunately there were no any fatalities and we managed to rescue all of them," said Mr Kimani.
Cases of buildings collapsing or developing warning signs of imminent collapse have been on the rise in the county.
Last week a wall which was under construction in Ruaka collapsed killing one person and injuring many others.
A high rise building in Ruiru town which was under construction was also closed down after it allegedly started to develop cracks forcing two banks that were operating there to vacate.
A county official who declined to be named said rogue developer were using courts to stop them from closing down their construction sites.