60 per cent of buildings in central Kenya face possible demolition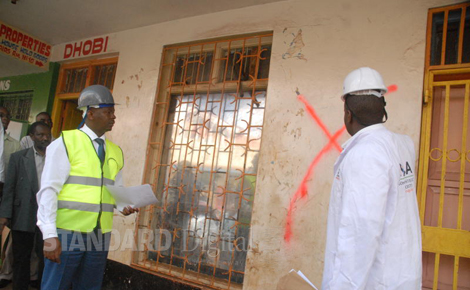 Housing Executive John Maina inspects a building during the launch of an audit
of all completed and on-going projects in the county. [PHOTO: JOHN GATHUA/
STANDARD]
NYERI: About 60 per cent of buildings under construction in Nyeri, Muranga, Kirinyaga, Laikipia, Embu and Nyandarua counties risk being demolished.
This is according to National Construction Authority (NCA) Regional Officer Eric Miseda, who said they do not comply with the National Construction Authority Act 2014.
Speaking at the launch of an inspection and audit exercise of all buildings under construction in the county, Mr Miseda said NCA would inspect buildings coming up in the six counties to ensure they comply with set regulations.
GOOD START
Miseda said NCA had been in the counties for the past six months and praised county governments for co-operating with the authority's work within their regions.
"We work in conjunction with county government to ensure that developers and building owners are aware of the regulations and meet the requirements," he said.
He said after three months, NCA would release a comprehensive report on the state of the region's construction industry in terms of compliance.
"As a relatively new government agency, we need support from the public. We want people to play a key role in ensuring their own safety. Anyone who is concerned about buildings in their area should call our hotlines and we will investigate," he said.
Housing Executive John Maina said the county government was already conducting its own building audit.
"Early this month, we issued a circular for all developers to comply with building regulations and we intend to continue with this exercise until all developers meet the necessary standards," he said.
"As a county government, we approve about 600 building plans every year and intend to audit all the buildings to ensure they comply with set regulations," the executive said.
During the inspection, NCA and county government officials toured several buildings including private hostels occupied by Dedan Kimathi University students, which they condemned and recommended for immediate demolition.
OWNERS' COSTS
Mr Maina said all buildings recommended for demolition should be vacated immediately and demolished at the owners' costs.
"We are not going to tolerate any loss of life due to unscrupulous developers out to cut corners. The county government and NCA are committed to ensuring that all building regulations are followed and we will conduct follow-ups to enforce this," he said.