Students in Nyandarua to sit common test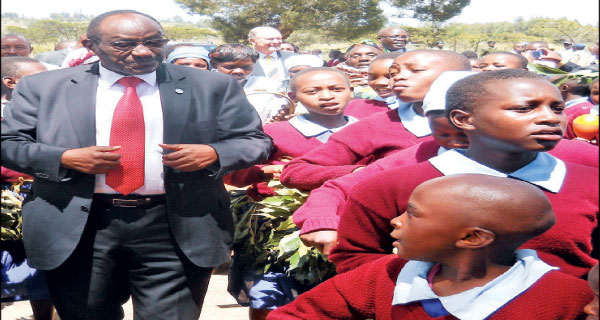 Nyandarua Governor Daniel Waithaka Mwangi joins pupils from Simba Primary School in a jig yesterday. [PHOTO: James munyeki/STANDARD]
BY JAMES MUNYEKI
Nyandarua County: Schools in Nyandarua County will from next year sit for common tests set by selected education professionals every term to gauge the academic prowess of students.
This will encourage competition and will see the improvement of education standards in the region.
Governor Daniel Waithaka Mwangi said his administration was determined to regain the county's lost glory on the academic front, and would collaborate with teachers to achieve the target.
"We intend to have students sit for common tests set by selected educationists so that we can gauge the capability of schools ahead of the national examinations," he said.
He said a team of educationists from the county would be selected to set the examinations as per ministry of Education standards.
"It is a shame that the county no longer appears anywhere when the results are announced and yet, it used to be top in the country. We have to devise ways of bringing the lost glory back," he noted.
The Governor was speaking at Simba Primary School in Ol'Kalou sub-county during the launch of the construction of Early Childhood Development (ECD) classes.
The project is funded by Kariandusi Schools Trust, a non-governmental organisation from the United Kingdom spearheaded by Valou Clark and his family.
In the recent past, the the Clark's have assisted in the construction of 16 classrooms, an office block, a library, a hall and a store.
The governor commended Mr Clark, saying his gesture had touched each home in the region.
"Your contribution has transformed the lives of young people in every family and we feel greatly indebted to you," Mwangi told the family that flew in from the UK to grace the occasion.
He said the county government in collaboration with local leadership put up the fence and a gate at the school to boost security.