Bad weather, post-poll chaos slow growth in agriculture
By John Oyuke
Post-election violence is to blame for the woes in the agricultural sector.
The growth of the sector declined from 2.2 per cent to negative 5.4 per cent last year.
Effects of the mayhem, which led to more than 1,000 deaths and 300,000 people displaced, inadequate rainfall and high prices of agricultural in put contributed to the fall of the sector.
Agriculture is the backbone of the local economy. It contributes more than 27 per cent to the Gross Domestic Product and provides livelihood to more than 70 per cent of Kenyans.
The sector also provides 60 per cent of total export earnings.
Food shortages
However, the 2009 Economic Survey Report released yesterday said that agricultural produce generally declined last year compared to 2007.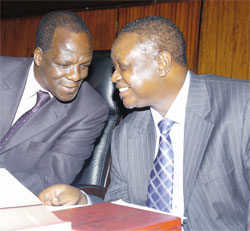 Planning Minister Wycliffe Oparanya with Finance Assistant Minister Oburu Odinga at the launch of 2009 Economic Survey Report in Nairobi, yesterday. [PHOTOs: Moses Omusula and Andrew Kilonzi STANDARD]

It said during the year under review, Kenya witnessed a substantial reduction in the production of food crops that led food shortages and high food prices.

The report said for the past two years, the country recorded a decline in the production of maize, which declined by 20 per cent from 32.5 million bags in 2007 to about 26 million bags last year.

Consequently, the quantity of maize imports increased from 100,000 tonnes valued at Sh1.09 billion in 2007 to 243,000 tonnes valued at Sh6.66 billion last year.

Similarly, according to survey, the production of beans declined by 15.9 percent, falling from 3.5 million bags in 2007 to 2.9 million bags last year.

Production of Irish potatoes, sorghum and millet also dropped by 20 per cent from 66.6 per cent and 53.6 per cent. The report said delayed planting after the post-election violence and unfavourable weather conditions in the form of inadequate long and short rains mainly occasioned the decline in production of food crops.

"The inadequate rainfall led to crop failure in several regions, notably the eastern and coastal parts of the country," the 2009 Economic Survey report said.

Wheat production declined by 23.6 per cent from about 113,000 tonnes in 2007 to about 86,000 tonnes last year. Coffee production dropped by 21.3 per cent from 53,4000 tonnes in 2006/07 to 42,000 tonnes in 2007/08.

Tea production declined by 6.4 per cent from 369,600 to 345,800 tonnes last year. The survey attributed the reduced production of tea to adverse weather conditions that affected tea-growing areas earlier in the year.

Dairy produce

The volume of marketed milk decreased by 6.4 percent from 423 million litres in 2007 to 396 million litres last year.

The value of dairy produce also decreased from Sh8.46 billion in 2007 to Sh8.37 billion last year. This decrease was due to death of some stocks coupled with lower milk delivery.

However, the horticulture sub-sector continued to play an important role in the domestic economy. It earned a substantial amount of foreign exchange from the exports of flowers, vegetable and fruits.

Volume of exports increased marginally to 193,100 tonnes last year from 192,200 tonnes exported in 2007.
Tecno launches Camon 19 and Spark 9
Tecno Kenya announces launch of Camon 19 series & spark 9 seriesThe CAMON 19 Series will offer incredible night-time photography features & the SPARK 9 Series will redefine selfie and iconic design for Gen Z.