Women flock to 'Mjengo' as Covid-19 destabilises job market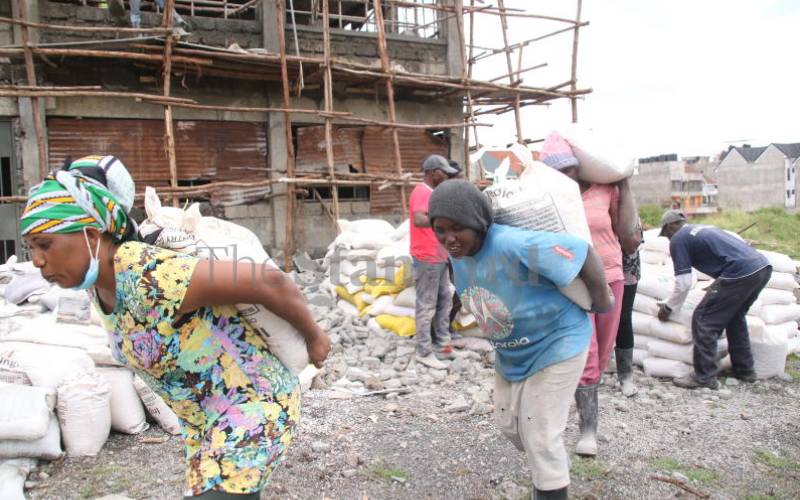 Amidst the cacophony of cement mixers, saws, cracking stones and the splatter of plastered walls, 46-year-old Mary Muthoni walks on a tight ledge as she plasters away at the walls. She is standing nearly six metres above the ground on a wooden scaffolding plastering away at the outer walls of the second floor.
Muthoni, a mother of nine, is one of 28 women who have taken up this unlikely job that is mostly the preserve of men. They are sweating it out at the ongoing construction of classrooms at a school in Komarock ward, Embakasi Central, Nairobi.
Before the Covid-19 pandemic, Muthoni was a trader, but she was forced to close shop like many others whose livelihoods were disrupted by the containment measures put in place by the government.
"When my business collapsed, I could not stay home because I still have to fend for my family. I have children in primary and secondary schools. So, I took up construction because that is what is available," Muthoni says as she stirs up the plaster. "I did not think about the manual labour involved or weight of the materials. I just wanted to meet my daily needs."
Muthoni's role at the site as a handyman or 'Mtu wa Mkono' as it is referred to in Swahili, is not defined as she and the other are called upon to perform different tasks as required.
"We do a lot of work, there is nothing that we cannot do. We can plaster, carry sand and cement, mix it… we are not choosy," she adds.
Muthoni has been on the job for five months now. Though the work is challenging, she is grateful as the Sh600 she receives will go into feeding her nine children.
"I would earn enough money from selling my business selling tomatoes, potatoes and other produce. It was a profitable business. In construction, you earn Sh600 but it is irregular. You cannot pay rent because there is no work on some days," Muthoni says as she slaps yet another layer of plaster on the wall.
On the ground, Agnes Karimi and Catherine Wanja diligently sift through cement, mixing it with sand and loading it onto a wheelbarrow where water is added to stir up a thin liquid screeding paste used to smooth out the plaster. Karimi was a mitumba trader at Gikomba market before the pandemic hit and she had to close shop.
"My business took a turn for the worse after the closure of borders. A bale of clothes that would cost me Sh15,000, shot up to Sh25,000. I could not afford to restock, so I decided to look for a different job," Karimi says as she shovels through the dry cement.
The story is slightly different for Wanja who lost her husband last year forcing her to become the sole breadwinner for her young family.
"It was difficult finding work. I went different hotels but could not get a job because they were all closing down," she says.
The 27 women at the site have, however, out done themselves taking on even the most challenging of tasks.
But they are anxious as construction of the school is set to be completed in a few months' time. They are worried where they will eke a living next.
"When the building is completed, I don't know where I will go to next. So, I still carry along my burdens and concerns as days go by," Muthoni says as she stabilizes her footing on the scaffolding to let one of the other workers go past the narrow ledge.
More worried is Wanja as she is the sole breadwinner.
"The good thing about construction is that it does not stop until the project is done guarantying a steady income. On the flip side, it is difficult to get a construction job unless you know a mason or fundi who will tag you along to the next site," she says.
But for now, the women can count themselves among the lucky few who are able to put bread on the table. According to data from the Kenya National Bureau of Statistics (KNBS) between January and March last year, the number of unemployed Kenyans stood at 2.9 million but shot up to 4.7 million by June to 4.6 million after the outbreak of the pandemic, adding 1.7 million to the ranks of unemployed Kenyans.
However, the reopening of the economy mid-last year saw a decline in unemployment with 3.2 million Kenyans said to have been unemployed as at September last year implying that though the economy was on a recovery path, 300,000 people were yet to be reengaged by their employers.
Though KNBS is yet to release its latest data, the situation is anticipated to have gotten worse after fresh containment measures were imposed in five key counties, including the capital Nairobi.