Finance executive under fire over integrity issues and for misconduct
WORK LIFE
By Paul Mutua | Apr 3rd 2019 | 2 min read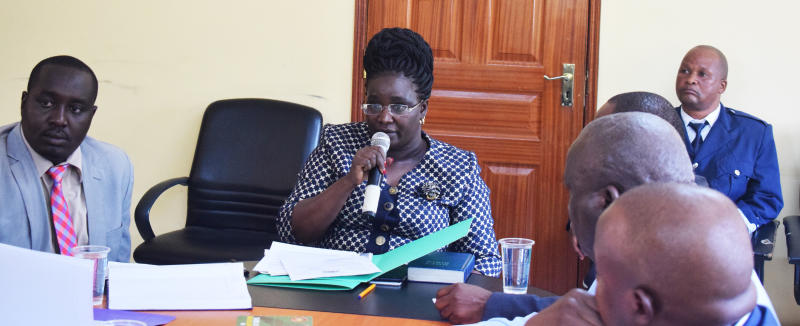 A special investigation committee has started questioning the impeached Finance executive over corruption and abuse of office allegations.
Mary Ndunge Nguli yesterday appeared before the team chaired by Mumoni ward representative Johnson Kanandu to explain why she should not be sacked.
The five-member grilling committee comprises three MCAs from the Wiper party, and one each from Narc and Jubilee alliances.
They are Jane Mutua (Wiper, Kauwi), Peter Kilonzo (Wiper, Athi), Antony Mbiti (Jubilee, Ikanga/Kyatune), Alex Nganga (Narc, Miambani)
Ms Nguli, who was accompanied by her lawyers, was accused of violating Chapter Six of the Constitution by allegedly managing her office in a manner that did not promote public confidence.
Mr Kanandu told the Finance executive that she had been summoned after her department failed to implement county assembly resolutions for coordination of the County Appropriation Act 2018.
The chair listed Nguli's crimes as "total breach of Section 104 1 (c) of the Public Finance Management Act 2012, and Articles 176 (1) and 183 (2) of the Constitution on the assembly's oversight role over the Executive."
Nguli was also tasked to explain why her department violated the county procurement procedures, failed to pay pending bills in time, and misled the assembly on several occasions through the introduction of multiple versions of planning documents that hampered the legislative process.
Rules and regulations
Before the witness was called in to face the committee, Kanandu first read out the rules and regulations that would govern proceedings
The chairman also spelled out the dos and don'ts to guide coverage of the sitting. He said the stipulated rules barred the print and electronic media from taking pictures, videos or recording the proceedings.
At the time, only The Standard's journalist was present in the room.
The sitting was, however, adjourned to allow members consult on Nguli's application to be allowed more time to gather additional evidence and documents, which she said she had realised would be required during the grilling.
Nguli told committee members that when she received the summons to appear before them, she had not anticipated the grilling would touch on matters outside the documented evidence.
"I received information that I was required before this inquiry committee but only realised today that additional details were needed. I require more time to prepare for the questioning."
Kanandu informed the members that the committee stood adjourned until the afternoon.
Nguli was impeached on December 13, last year before the county assembly rejected a Sh11 billion supplementary budget for the 2018/19 financial year.
The motion was tabled by Budget and Appropriations Committee chair Boniface Kasina, who is also the Tseikuru MCA.