Fun excursion at Mombasa Marine Park
Philip Mwakio
Beaches at the North Coast offer the best seaside thrills with its stunning free-fall reef and clear blue ocean waters that provide abode to several thousands marine creatures. It is thus a perfect location for both leisure and relaxation.
The surrounding areas around the Mombasa Marine Park has continued to attract both local and international visitors keen to experience luxuries of the water.
The Peake Luna Waters Sports, a reputable water sports firm with its base at the Travellers Beach Hotel, offers an extensive range water sports activities, services and equipment that are both motorised and non-motorised.
The firm works in close consultation with the Ministry of Education and the Kenya Wildlife Services (KWS). It recently set up a unique programme for schools that enables students to visit the marine park and learn practical experiences of the under-water world.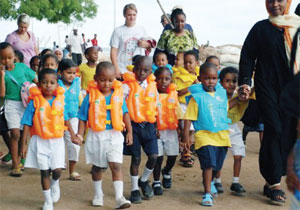 Pupils from a kindergarden (with life jackets) on an educational tour of the park. [PHOTO: COURTESY]

"Very little is known or taught in schools about the abundant marine life that exists along our Coastal waters," says Peake Luna Water Sports Managing Director Habib Hakeem.

Educational tour

During a marine education tour, Hakeem adds a practical study of marine life and eco-system.

"There are very few marine biologists in this country and such tours add to propel interest among young Kenyans in the this field of science," says Hakeem.

I wanted to check out the educational tour so I set out one chilly morning to explore the beauty of the Mombasa Marine Park. I was informed the tour is specially packaged for students right from kindergarten to secondary school. Owing to its growing popularity, tertiary colleges and universities have also enrolled for the programme.

The tour includes a study of coral reefs and the different marine species that live in it. Two different packages are on offer and they include a two-hour session that includes entry charges to the marine park, safety instructions given by Peake and Luna Water Sports professional guides, a general briefing on marine study, a walk on the reef at low tide and a study on the coral reefs.

The second package contains the activities of the first package plus snorkelling, swimming, a cruise to the Mtwapa Creek for a mangrove tour, a visit to a nearby snake park and a Giriama cultural centre.

Jet skiing

Peake Luna Water Sports offers an array of water sports that include jet and water skiing, wind surfing, sailing, speed boats, banana boats, snorkelling, glass-bottomed boat diving, creek sea fishing, whale and dolphin watching and sunset creek safaris.

We boarded a versatile 2008 model Yamaha that tested our endurance even as we enjoyed the ultimate thrill — jet skiing. This is a sport for only those who possess a heart of steel as the super jets 'fly' you through the waters at near supersonic speed.

A ride on a speedboat christened Dudu Maji, which was equipped with a Hifi music system and a private cabin, took us on a fast ride to the nearby Mtwapa Creek. From here we jumped onto a glass-bottomed boat that took us on a no-frills ride to the reef to sample the undisturbed natural marine life.

Whenever the tide favours, guests can drop off and walk on sea grass or watch colourful submerged coral reefs.
On the trail of Sitatunga antelopes
Recently I was in Kitale town with two French friends to review the projects being undertaken by an international NGO working in the area that they were sponsoring.