KCB captain Wisa relishing Prisons challenge in quarters
VOLLEYBALL AND HANDBALL
By Ernest Ndunda | May 28th 2022 | 3 min read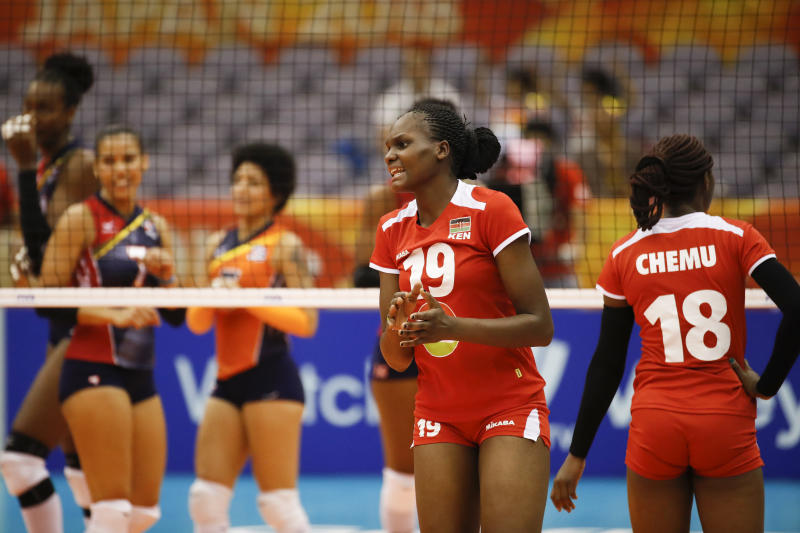 KCB Bank captain Edith Wisa is relishing the prospects of facing her former employer Prisons Kenya in today's quarterfinal of 2022 African women's Club Championships in Kelibia, Tunisia.
The experienced Malkia Strikers middle blocker believes the bankers have what it takes to beat the five-time continental winners in the highly anticipated clash.
This is a match where Wisa, Mercy Moim and Sharon Chepchumba will be aiming to haunt their former club.
But Prisons will start the match as favourites by the virtue of enjoying their unbeaten run in the continental showpiece.
Having played for Prisons before joining KCB, Wisa said she is really aware of the threat the national champions pose to their semifinals dreams.
"We know the quarterfinal match will be a do or die to both teams. But we are more than ready to knock them out of the title contention," said Wisa after winning their pre quarters match 3-0 against Nigeria's Customs on Thursday.
"We had adequate preparations for the competition and we have been getting better and we shall be prove our worthiness against Prisons."
KCB lost once out of their four matches against title holders Carthage of Tunisia.
However, based on their unbeaten run in the tournament, Prisons Kenya captain Braxcides Agala has warned KCB to be prepared for a tough match.
"We must extend our winning ways and maintain the rhythm and keep on pushing on to reclaim the trophy," said Agala.
Prisons stopped VCL of Ivory Coast 3-0 in their pre quarter tie on Thursday.
And there will be no love lost between KCB coach Japheth Munala and his Prisons counterpart Josp Barasa.
Though the two tacticians' friendship will be put on hold when they their teams battle for the semis ticket far away from home today.
Both Barasa and Munala conceded that it will not be an easy match as both teams have met before.
"It is going to be a tough clash. We have beaten them before but this is a different championships and a lot at stake," said Barasa.
Munala said: "We are in the quarterfinals on merit. As our archrivals back in Kenya, it will not be a walk in the park but we are prepared and hope to sail through."
Even though Kenya Pipeline face another test of character against FAP of Cameroon in the other quarters today, captain Rose Magoi is confident the six-time champions will prevail.
"Morale is high and we are expecting to win the match," said Magoi after guiding her side to beat Uganda's Ndejje University in the round of 16.
Magoi's predecessor Trizah Atuka said: "We thank God for yesterday's win. Another day to recover as we prepare to take on FAP of Cameroon in the quarterfinals tomorrow. Your prayers keep us going my country people, thank you."