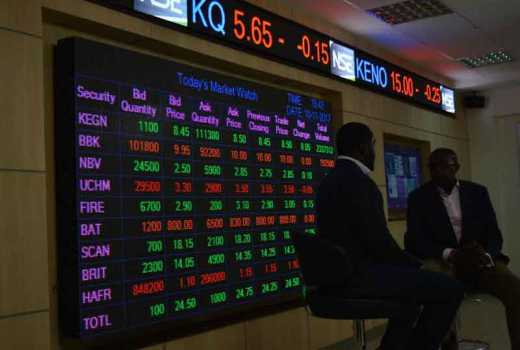 The shilling and the stock market on Tuesday held their own against the political storm created by the controversial swearing-in of Opposition leader Raila Odinga.
The local currency weakened marginally against the dollar while the volume and value of the shares traded at the Nairobi Securities Exchange (NSE) surged despite a marginal dip in the market capitalisation.
Many businesses however remained closed for the better part of the day, with traders fearing chaos by National Super Alliance supporters.
The local currency weakened slightly against the US dollar, according to a Reuters report, with commercial banks quoting the shilling at 102.45 to the dollar in early morning trading.
This is compared to Monday's close of 102.40.
Read More
Many had feared the tensions created by the swearing-in event would destabilise the shilling that has shown resilience in the face of a hostile political environment after last year's disputed presidential polls.
Kenneth Minjire, head of securities at Genghis Capital, told Bloomberg the stock market and the local currency may have been unaffected because Kenya's financial markets "may be a little slow due to local institutions running on skeleton staff in case the political events turned messy".
Market capitalisation at NSE, on the other hand, also declined marginally to Sh2.667 trillion. This is compared to Sh2.668 trillion on Monday.
The number of shares traded during the day's trading session, however, rose substantially to Sh43.11 million, up from 9.5 million shares traded on Monday.
Rose substantially
Turnover also rose substantially to Sh1.2 billion from Sh287 million the previous day.
NSE said turnover was boosted by the sale of Safaricom shares, which accounted for 44 per cent of the value of shares traded yesterday.
The telco's stock moved 18 million shares valued at Sh535 million.
The stock, the only one traded at the ICT counter, was followed by banks, which accounted for 34 per cent of the value of shares traded yesterday at Sh414 million.
The benchmark 20 share index went down 11.96 points to 3 727.73 points compared to Monday.