2018 Review: Facebook, Twitter CEO investigated over data breach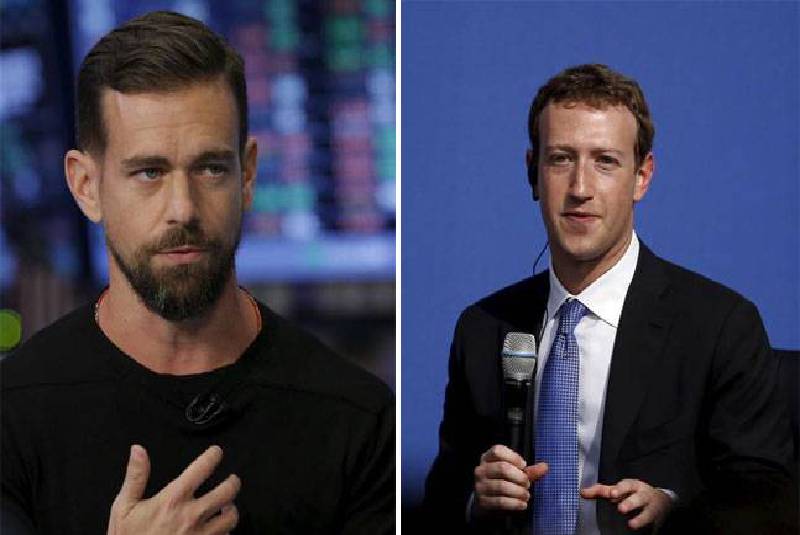 In early April, Facebook Inc Chief Executive Mark Zuckerberg navigated through the first of two US congressional hearings without making any promises to support new legislation or change how the social network does business.
This came about when Facebook said the personal data of up to 87 million users was improperly shared with British political consultancy Cambridge Analytica, as Mark Zuckerberg defended his leadership at the huge social network.
During nearly five hours of questioning by 44 US senators, Zuckerberg repeated apologies he previously made for a range of problems that have beset Facebook, from a lack of data protection to Russian agents using Facebook to influence US elections.
On March, Facebook shares fell steeply after it came to light that millions of users' personal information was harvested from Facebook by Cambridge Analytica, a political consultancy that had counted US President Donald Trump's election campaign among its clients.
The Senate hearing ended just past 7 p.m. (2300 GMT), and a second session before a House of Representatives committee is scheduled for Wednesday at 10 a.m. (1400 GMT) during which Zuckerberg was asked whether Facebook was a monopoly.
He responded, "It certainly doesn't feel that way to me," breaking into a smile as the audience laughed.
Facebook disclosed in September that Russians under fake names used the social network to try to influence US voters in the months before and after the 2016 election, writing about inflammatory subjects, setting up events and buying ads.
On April 4, Zuckerberg told reporters on a conference call he accepted responsibility for the failure to protect user data but maintained that he was still the best person to lead the network of two billion users.
"I think life is about learning from the mistakes and figuring out how to move forward," he said in response to a question on his ability to lead the company.
"When you're building something like Facebook which is unprecedented in the world, there are things that you're going to mess up... What I think people should hold us accountable for is if we are learning from our mistakes."
In early March, Twitter Inc urged its more than 330 million users to change their passwords after a glitch caused some to be stored in readable text on its internal computer system rather than disguised by a process known as "hashing".
The social network disclosed the issue in a blog post and series of Tweets on one of Thursday afternoons, saying it had resolved the problem and an internal investigation had found no indication passwords were stolen or misused by insiders.
Still, it urged all users to consider changing their passwords.
"We fixed the bug and have no indication of a breach or misuse by anyone," Chief Executive Jack Dorsey said in a Tweet. "As a precaution, consider changing your password on all services where you've used this password."
On September, Twitter panel said that the chief executive was to testify before a US House of Representatives committee, after some Republicans raised concerns about social media companies removing content from conservatives.
The House Energy and Commerce Committee "intends to ask tough questions about how Twitter monitors and polices content," Republican Representative Greg Walden, the panel's chairman, said in a statement.
This was after President Donald Trump accused social media companies of silencing "millions of people" in an act of censorship, but without offering evidence to support the claim.
"Social Media Giants are silencing millions of people. Can't do this even if it means we must continue to hear Fake News like CNN, whose ratings have suffered gravely. People have to figure out what is real, and what is not, without censorship!" Trump wrote on Twitter, not mentioning any specific companies.
Welcome to 2019.