Gideon Moi's Local Content Bill gets backing Ugandan MPs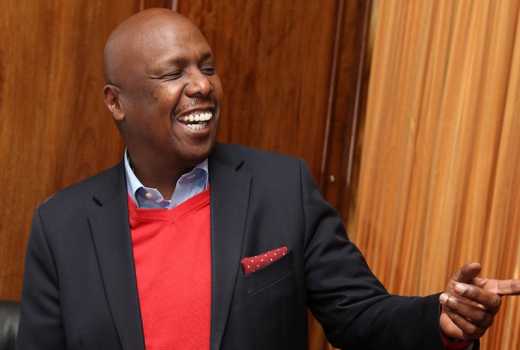 Baringo Senator Gideon Moi's Local Content Bill 2016 has received backing from Ugandan MPs terming it a catalyst for economic prosperity.
A section of Uganda members of Parliament held a benchmarking meeting with Senator Moi who is the brainchild of the bill that seeks to ensure that locals get the best out of minerals extracted from their areas.
Mr Moi who also chairs the Senate Committee on Information and Communication Technology, said that it was encouraging to see Ugandan leaders also seek for laws that will ensure all stakeholders involved in extractive industry get a better bargain.
"I am very delighted to welcome Ugandan delegation here. We have had a very robust discussion. I am happy that they have taken this path to develop law for local content to ensure every single Ugandan benefits from their own natural resources," said Mr Moi.
During the session, Mr Moi said that investors in the extractive industry cut across the region and it is vital to have strong laws to ensure locals are not exploited.
"The forests may be different but the monkeys are the same. We are going to support them (Ugandan delegation) all the way as they develop the bill," pledged the Senator.
Speaking after the meeting at Nairobi's Serena hotel, Patrick Nsamba Oshabe, the Ugandan MP who is sponsoring a similar bill in Ugandan Parliament said that Moi's Bill has vital clauses that could be replicated in Uganda.
"We have talked about ensuring that the Kenyan people participate in the extractive activities that are going on within the country. This is the same spirit under which we want the people of Uganda to embrace," said Mr Oshabe.
Take a quick survey and help us improve our website!
Take a survey
Oshabe said that the bill is worth replicating in the entire Sub-Saharan region so that countries do not lose money that comes with the lucrative sector. He vowed to rally parliamentarians to support a similar bill in Uganda in order to jumpstart the economy.
"If we go back home and implement what we have learnt here, I think the Ugandan people will be happy. The entire sub-Saharan African should swing into action to ensure that they participate so that all the dollars are not taken out of our economies," he added.
Senator Moi had introduced the Bill in the senate back in 2016 and it went up to the second reading. However, it could not proceed since the house's term ended to pave way for 2017 General Election. Yesterday, Mr Moi disclosed that he is set to reintroduce the bill.
"We are going to reintroduce it in this 12th Parliament. Its progress was disrupted because of elections but now we are bringing it back, "he said.
The Bill, if passed into law, is expected to impact the whole extractive sector with the oil and gas, expected enjoy the initial benefits.
It requires that a minimum percentage of value of goods and services supplied to players in the extractive industry be from Kenyan sources.
The senator sees this as a way of opening up opportunities across a broad spectrum of different sectors, including financial services, transport and logistics, and security.
In addition, the Bill also requires that miners give first consideration to locals who have requisite expertise or qualification when hiring so as to facilitate skills and technology transfer.
Mr Moi believes that the Bill is perfect in its current form and will be reintroduced without needing further changes.
"We have had pubic participation and everything that the public, investors and other stakeholders wanted have been captured. It will go as it is," said Mr Moi.
To fight drought, involve communities
According to the latest information from the Meteorological Department, rainfall will be poorly distributed in April, May and June, and this will have a serious impact on agriculture