Kenyan students develop app to curb Insecurity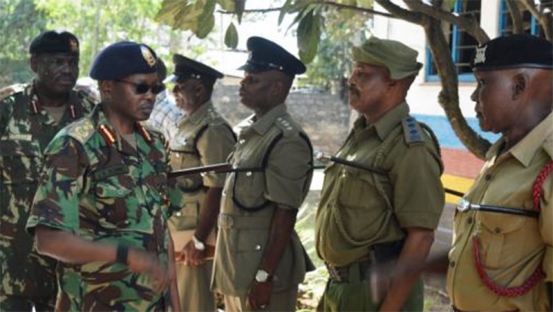 Five Strathmore students and one from the University of Nairobi have developed a mobile applicationthat could revolutionise how Kenyans report crimes.
Edwin Inganji 22, Daniel Kimotho 23, Kenneth Gachukia 24, Marvin Makau 23, James Chege 22 and Felix Kanyi 22, have come up with a security application that allows an individual to send a danger alert to at least three members of his or her inner circle through a creatively developed panic button.
The six came up with the Usalama App after noting an insecurity surge in Nairobi.
Edwin Ingaji, the team leader, and a fresh graduate from Strathmore University, speaking to Hashtag recalled how surviving a robbery, which left him without his mobile phone and laptop computer inspired the idea of Usalama Application. That incident compounded with an interest in creating a competitive mobile solution that would improve their chances of participating in Safaricom telecom's annual Appwiz competition resulted in a practical solution to a growing need.
"I was a victim of a mugging incident when I was in my first year of study. As I was walking to my hostel located stone's throw away stone from the university compound, something hit me in the gut resulting in a sharp pain. As I gasped for air, I counted four thugs ordering me to lie down. One of them had a gun pointed at me as they took everything I had," Edwin narrates. "Even though I escaped with minor injuries, thoughts of how helpless I felt in that situation lingered on in my mind."
A week after the incident, one of his friends walked into the same trap but was not as lucky as the muggers shot him thrice as he made a run for it, leaving him for dead.
The App requires the user to either long press volume down or shakes the phone to open the app and tap on the icon describing their emergency on the home screen of the App.
The user is given a chance to add further details if they choose to; a distress signal is sent even if they don't. The distress sent contains the user's current location, their emergency details and the three nearest police station from the victim plus their contacts (of the police station). This distress is sent as a Usalama notification to the phones of the respective parties. Once they open it, the victim is given feedback on who has seen their distress.
The App boasts of more than 3,000 users with significant partners including St Johns Ambulance and Nairobi Women's Hospital GVR section.
The team is also engaging with private security firms and road rescue companies to offer their services through Usalama. The team says that once they've been able to drive a lot more users from within Kenya, they will scale up to the whole of Africa and the world.