John Munyes, rivals unveil line-up to face UDA in poll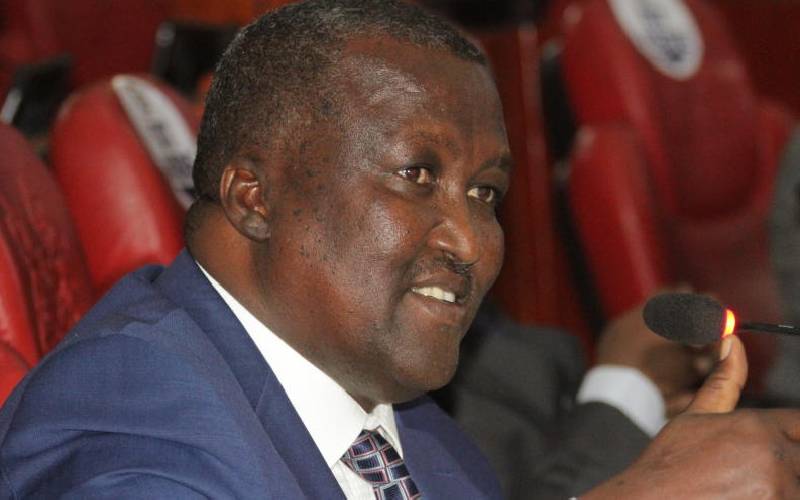 Governorship aspirants in Turkana led by former Mining Cabinet Secretary John Munyes have united in a bid to raise their winning chances against the United Democratic Alliance (UDA) rivals.
Munyes, Turkana South MP James Lomenen and County Assembly Speaker Erastus Lokaale, who were seeking to succeed Governor Josphat Nanok belong to Azimio la Umoja. They unveiled a line-up after days of consensus building.
Under the line-up, the Jubilee Party members settled on Munyes as governor candidate with Lokaale will be his running mate. Lomenen will go for the Turkana Senate seat. Lokaale had been seeking the UDA ticket for county top seat but jumped ship and joined the Munyes-Lomenen wing after falling out with Deputy President WIlliam Ruto allies in Turkana.
Lomenen said President Uhuru Kenyatta had intervened to bring them together.
"We want to change the politics of Turkana. We want a county government that has a good relationship with the national government so that we lobby for mega projects. Other counties are enjoying multimillion projects because of close relations with the national government. The outgoing county government had a poor working relations with the national government," Munyes said in Turkana.
The former CS expressed confidence that their teaming up will deliver victory for the Jubilee Party and Azimio in Turkana County. He said Lomenen brings to the team experience in legislation and oversight. Lomenen is serving a second term as Turkana South MP.
Munyes (pictured) said as a senator, he petitioned the senate three times to take action against Governor Nanok for failing to discharge his duties well. He challenged Lomenen to oversight him effectively if he is elected in August.
"Turkana is a Jubilee and Azimio zone, and we are confident in sweeping all elective seats. We are organised, and we already have a running mate. Our competitors are yet to settle on a deputy governor because they are disorganised," Munyes said.
Lomenen said Uhuru called him and Munyes and brokered a truce. He said he could not go against the President.
"The President advised me to support Munyes for governor. He saw my experience as an MP and advised me to fly the Jubilee flag as Turkana Senator. As a senator, I will be a Turkana spokesman in many aspects," Lomenen said.
Lokaale said he accepted to be Munyes' running mate, saying the former CS was more experienced than him in politics. In the Jubilee line-up, Turkana woman representative Joyce Emanikor will vie for the Turkana Central MP seat. Meanwhile, Jubilee issued nomination certificates to 40 aspirants in Turkana on Thursday.