Agony of Banda Homes investors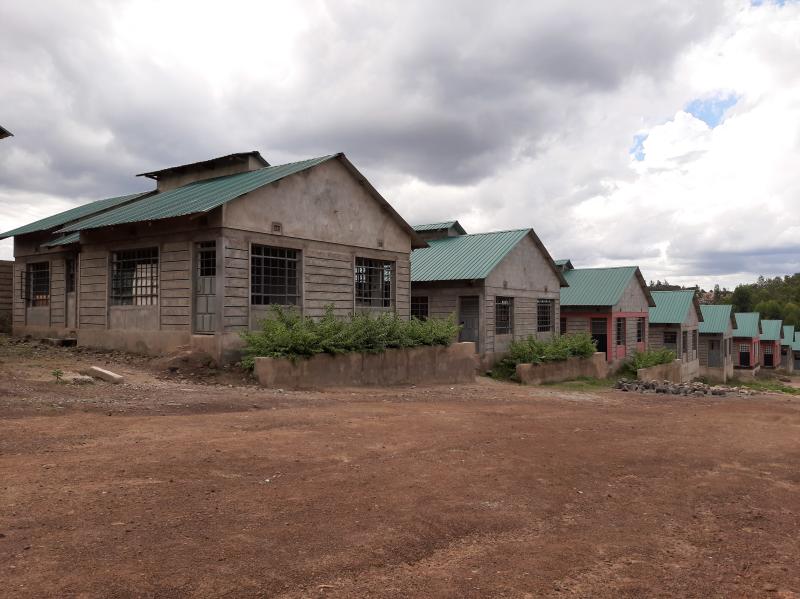 Clutching onto a tattered khaki envelope, Lucy Wanjiru fights tears as she ruefully gazes at the empty skies. She then digs into her handbag and fetches a handkerchief to wipe the free-flowing tears.
Lucy's pain comes from a well-planned scheme that has now left her homeless. Her woeful story begins with her 31-year-old daughter Florence Nyawira who left for the middle east, Dubai to be specific, in search of greener pastures.
The plan was for Nyawira to help alleviate the financial struggles her family was facing. The first thing that she did once she landed a job in Dubai was save some money to buy a house that she and her mother would call home.
She came across an offer by Lettas Developers Ltd, which has now been renamed Banda Homes. The developer was putting up housing units in Witeithie area of Juja, Kiambu County.
Nyawira decided to purchase one of the 20 units that were under construction. She was to pay Sh3.25 million in five installments. The first installment was paid in April 2017, while the fifth and last payment was made a year later on April 18, 2018.
Nyawira made the payments to Banda Homes through her mother Lucy. "My daughter struggled, but kept sending money to meet the one-year agreement. However, even after we completed payments, our house, as is the case with many others, is not ready," said Lucy, with anguish written all-over her face.
"After numerous protests, we were told that the units would be handed over to us in April 2019. To date, after sinking all that money, we have not received our houses."
This painful story has been shared by tens of other investors who have struggled to buy houses from Banda Homes.
Many had hoped to run away from paying rent, but years down the line, the landlord is still knocking at their doors.
The story of Ruth Mwangi, a visually impaired teacher who invested her Sh3.2 million for a three-bedroomed bungalow at Mashirika Courts along Kenyatta Road, is even moving.
Ms Mwangi, who is set to retire next year, had figured out that the project was an ideal venture that would secure a roof above her head in her retirement. She invested all the money she had saved in her years working as a teacher, and topped it up with a loan.
Three years later, after making the last payments, the house is a mere uninhabitable shell.
"It is very painful for her to narrate what happened. Her retirement is fast approaching and she has nowhere to rest in her old age,"
Karanja revealed that his mother approached Andrew Kamau, the Director of Banda Homes, who dismissed her.
Kevin Achenda, who just like Nyawira, bought a unit in Witethie, is also a victim. He had taken a loan to buy the property.
Victoria Nduta had also bought a house in Umoja One through the same real estate firm. She too had taken up a bank loan.
"It is very painful that now I not only have to service my loan which is very expensive, but also pay rent yet I met my part of the deal. I paid in excess of Sh3 million for the three-bed-roomed house, hoping that when I finish paying, I will quit paying rent and concentrate on servicing the bank loan," said Mr Achenda.
All the home buyers have laid blame on Mr Kamau. They protested the manner in which he has handled the purchase agreement.
"He formed a WhatsApp group where we can raise the issues. However, if you become critical of him, he removes you from the group," said Achenda, an assertion supported by a screenshot of the group shared by another investor, Gladys Mbatia.
Ms Mbatia, 32, faced Kamau's wrath after she took him head on in a group argument. She dismissed the reasons he advanced for delaying the completion of the houses, one of them being the Covid-19 pandemic. She was immediately removed from the group.
A bitter Mbatia said that she has invested Sh3.45 million and hopes of owning a house through Banda Homes remain a pipe dream.
Mr Kamau has continually claimed that some of those questioning his firm have not completed payments for their houses.
However, his claims are turning into hot air as many of the home buyers keep producing receipts that prove that they have completed the payments.
In an interview at a local television station, Mr Kamau stressed that the agreements signed did not have a timeline for when construction of the houses would be completed.
However, documents show that some of the houses had a completion date of December 2017. When The Standard visited the Ridge Three estate in Witeithie, it found houses half complete and abandoned. House buyers said little works have been undertaken by the developer for more than a year now.
Ridge Three was to be handed over to its owners last year. "There is nothing that has been done to these houses for the last one year. Its more than three years since we made the last payments. It appears that we shall have to wait longer. This is not what I expected when I sank all the money I had painfully earned in that firm," Mbatia said.
She points to a crumbling wall that separates what is supposed to be her house and estate drive way. The situation is even worse in the Umoja One Estate.
The estate has been abandoned with no civil works undertaken. The structures look more like ruins that have withstood several years, even when many of the buyers have completed payments.
Curiously, a good number of those who have invested in these projects are Kenyans in the diaspora who rely on their relatives to push for the completion of the houses.
Some have been hoping that the units will be completed in time before they return to Kenya to settle down.
Last year on November 16, Banda Homes handed over one of its projects, Ridge Two estate. The houses, however, were given to their owners before they were completed.
The cabros that pave the driveway are already cracking as a result of poor workmanship. The houses were handed over without water and electricity connections; no sewer system either.
When contacted yesterday, Kamau sought to disassociate the houses constructed when the company traded under Lettas developers and currently when it is trading as Banda Homes Ltd.
He declined to respond to the numerous accusations leveled against him by the investors, telling The Standard that he would address all the issues during a press briefing that he will hold at his convenience.
"I am not commenting on that now. You will have to wait until when I hold a press briefing to respond," he said when contacted on phone. He later wrote a text message claiming that Banda Homes had not developed the units that we had visited.
A number of the investors told The Standard in confidence that they have since recorded statements with the Directorate of Criminal Investigations (DCI) over the matter.