Global hotel brands battle it out for a piece of Africa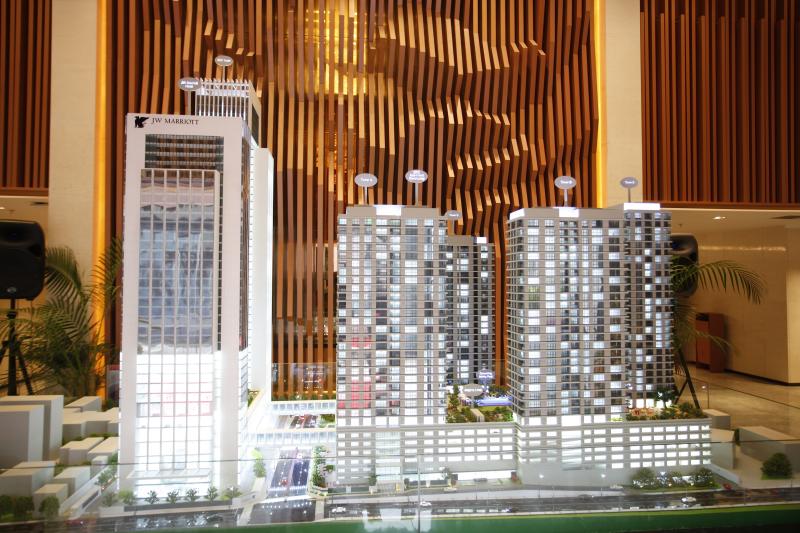 In 1884, European powers met in Berlin, Germany, and began looking to Africa as a source of raw materials and a market for their growing industries.
In what came to be known as the "Scramble and Partition of Africa," they divided the continent among themselves.
Today, another scramble for Africa is in top gear, this time led by global hotel giants. Africa is the new frontier for the hospitality industry with an emerging middle class with a taste for the fine things in life.
Big names like Radisson, Marriott, Hilton and Accor already have a foothold in many corners of Africa, with more investments in the pipeline.
Six years ago, there were 18 countries with no globally branded hotels. Today, there are only seven countries in that category. The African Hotel Chain Development Pipeline Survey says there are 75,000 branded rooms in 401 hotels in the pipeline across Africa, a growth of 51 per cent in total pipeline rooms since 2015.
The just concluded African Hospitality Investment Forum in Addis Ababa, Ethiopia was the playground where these giants squared it out for yet another piece of the African pie.
We bring you the current exploits of the key players in this game.
Radisson Hotel Group
At the Ethiopian forum, the group announced the signing of 11 new hotels in Africa within the first nine months of 2019. This brings the Group's African portfolio to almost 100 hotels and over 17,000 rooms in operation or under development across 32 African countries. The hotel group is on track to reach over 130 hotels and 23,000 rooms by 2022.
Tim Cordon, the group's area senior vice president for Middle East and Africa says the new partnership with Jin Jiang, one of the largest hotel groups in China will bring on board over 120 million loyalty customers to the brand and expand its footprint in Africa.
"This year we have signed a new hotel deal every 25 days. We are currently focusing on 23 of the 60 larger cities in Africa. Radisson Blu has for the second year secured the top spot as Africa's fastest growing hotel brand," said Andrew McLachlan, Senior Vice President, Development, Sub Sahara Africa.
The group just opened its third hotel in Kenya, Radisson Blu Hotel and Residence Nairobi Arboretum.
It is now eyeing the beach and bush business by leveraging on national parks in Kenya Uganda, and Rwanda as well as beach prospects in Mombasa, Zanzibar, Dares Salaam and Diani.
Marriott International
The group announced the addition of 40 properties and over 8,000 rooms across the continent by the end of 2023. It also signed agreements to open its first property in Cape Verde besides further expansion in Ethiopia, Kenya and Nigeria.
Marriott's development pipeline through 2023 is estimated to drive investment of over Sh200 billion from property owners and generate over 12,000 new jobs in Africa.
The group's current portfolio in Africa encompasses close to 140 properties with more than 24,000 rooms in 20 countries. "Africa is a land of opportunity with untapped potential. The economic growth the region is witnessing presents us with immense opportunities for growth," said Alex Kyriakidis, President and managing director, Middle East and Africa.
The company will expand its footprint in Kenya with the signing of Protea Hotel by Marriott Kisumu in Kenya. This will be the first internationally branded hotel in Kisumu scheduled to open in 2022. It is a franchised property owned by Bluewater Hotels and will be managed by Aleph Hospitality.
InterContinental Hotels Group
IHG just signed a Master Development Agreement with Aleph Hospitality to develop ten franchise hotels across the group's portfolio of brands in midscale and upscale segments.
The agreement will see IHG expand its presence in Africa across key countries such as Kenya, Ethiopia, Nigeria, Morocco, Algeria and Ghana. The move will strengthen IHG's portfolio in the continent and comes amidst plans to expand to 35 hotels across the Middle East and Africa by 2025.
"We are delighted to sign this agreement with Aleph Hospitality, which will add a significant number of rooms across our portfolio of brands in the continent. The increasing number of international guests will drive a surge in demand for world-class accommodation," said Pascal Gauvin, managing director, India, Middle East and Africa.
IHG currently operates 29 hotels across six brands including InterContinental Hotels and Resorts, Six Senses, Crowne Plaza Hotels and Resorts, Holiday Inn, Holiday Inn Express and Staybridge Suites in Africa.
Hilton
At AHIF, Hilton announced the signing of Hampton by Hilton Sandton Grayston, a deal which marks a milestone of 100 hotels trading or under development on the continent in its centenary year.
This was part of the group's 'Big Five' commitment where the company has allocated over Sh62 million towards community partnerships and projects in five key areas namely youth opportunity, water stewardship, anti-human trafficking, local sourcing, and wildlife protection.
"Hilton is fully committed to Africa and the sustainable development of its travel and tourism sector. Our teams across the continent are empowered to invest in and scale up initiatives that build skills among young people, mitigate human trafficking risks, engage local entrepreneurs across our supply chain, improve water efficiencies and promote responsible wildlife-based tourism," said Rudi Jagersbacher, President, Middle East and Africa. Hilton has been operating in Africa since 1959 with 47 hotels and 52 properties under development.
Accor
One of the world's leading augmented hospitality group, announced the debut of its midscale brand, Novotel, in the Democratic Republic of Congo. This follows the signing of three properties during AHIF.
The group has partnered with Compagnie Hôtelière et Immobilière du Congo (CHIC), owned by leading DRC conglomerates, to open Novotel properties in the capital, Kinshasa, and its two major mining centres of Lubumbashi and Kolwezi. This will introduce 337 keys to Sub-Saharan Africa's largest country.
"With Africa tipped as the next global market and DRC one of the continent's fastest-expanding economies with an affluent middle class, the time is right to introduce our flagship midscale lifestyle brand," said Mark Willis, CEO, Accor Middle East and Africa.
DRC is the world's largest producer of cobalt ore, copper and diamonds, and an estimated US$24 trillion in untapped mineral deposits.
CityBlue Hotels
Sub-Saharan Africa's fastest growing local chain, CityBlue Hotels, will take over the Landmark City Hotel in Quatre Bornes, Mauritius.
This follows the group's first footprints in Kenya and Zambia.
"We are quick to spot opportunities where others don't, and so far, it has worked in our favour. Mauritius is an important regional business and administrative hub, we look forward to welcoming business and leisure travellers alike to experience hospitality in the heart of Mauritius," says Jameel Verjee, CityBlue founder and chief executive officer.