Sister wants Mombasa court to eject brother from multi-million house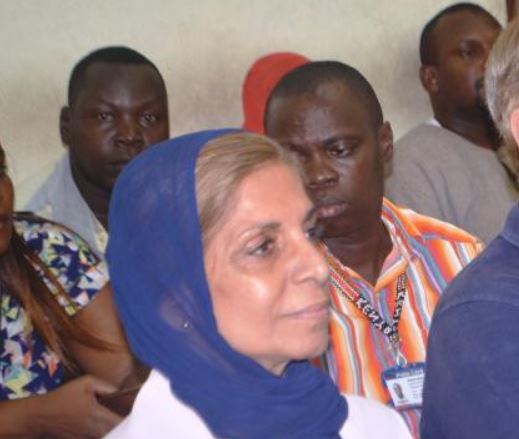 MOMBASA, KENYA: A woman in Mombasa is seeking the High Court's intervention to evict her estranged younger brother from her multi-million penthouse.
Zahra Pote, a former US army contractor accuses her brother Ashraf Jan Mohammed of malice and has been locked in a succession battle with him.
Early this month he was acquitted of an illegal ammunition possession charge.
Pote through her lawyer Vincent Mogaka applied that her brother is evicted from the penthouse and restricted from interfering with any of her properties.
"I want the court to remove him from the compound as he has no right to be there and he is a threat. I should have my properties and retire in peace," said Zahra.
Zahra and her brother are engaged in a legal battle for control of a five storey apartments in Makadara grounds and another five storey building at Buxton next to Coast General Hospital worth over Sh. 110 million.
Ashraf accuses his sister of forging documents to grab properties inherited from their late mother Shuni Haji. He wants a share of the property.
Through his lawyer Gikandi Ngibuini, Ashraf has accused Zahra of forging two title deeds for the disputed properties but yesterday she told Lady Justice Ann Omollo that she had developed the two properties using her money while serving as US Army contractor for 37 years in Afghanistan border, Iraq and Kuwait.
She described her brother as a threat who has previously sought to deport her.
"I am sorry to say but I no longer consider him as my brother. He has put me through hell for the last four years. I want him out of my property because he is dangerous to the tenants and us. He had me arrested and wanted us out of the country," said Zahra.
She told Justice Omollo that her brother had brought the police into her house and had her locked in police cells after allegedly trying to frame her for illegal possession of 509 bullets.
Zahra told the court that she was forced to pay Sh3.5 million loan through Bullion Bank to stop the Southern Credit bank from auctioning their home after his brother, allegedly, took a loan and defaulted for five years.
She said that after negotiating with the bank, the title deed was returned back to her mother.
"Mum in 2004 and 2011 transferred the two properties to me. In 2010 she realized about the forgery and ordered her lawyer Yasmin Ali to sign papers that put the property in my name and told me she had talked to my brother over the same," said Pote.
Zahra said she worked all her adult life abroad to provide for his family and mother back in Kenya and added that the late Shuni instructed her lawyer to register the family properties in her name to prevent her brother from wasting them.
"My late mother instructed me to go and see her lawyer and told me she had registered both the properties in my name," said Pote.
Under cross-examination by Zahra's lawyer, Ashraf confirmed his sister sent money from abroad to construct a rental apartment in Mombasa worth Sh70 million.
"Mum had signed the property as a trust for a loan at Bullion Bank. However, there was a problem with the payment of the loan as the bank went under and there was an attempt to attach the property. So my sister paid the whole amount of sh. 3.2 million," said Ashraf.
"I believe that she bought the plot in trust for our mother and was registered in her name. It was transferred to our mothers name Haji," said Mohmmed.
Ashraf was, however, unable to justify how much he had contributed towards the construction of the two properties but insisted that their late mother had bequeathed the properties to them.
He said that he had contributed money he received form his matatu business and an office furniture business he was running.
He said that the two properties were a family inheritance and it was unfair for Zahra to lay sole claim to them.
He also said the court to award him a third of the contested property with his sister getting a third as determined by the Kadhi court in a past ruling.
"I would agree to share the suit properties with my sister where I get two-third of the shares and she gets a third as ruled by the Kadhi Court in accordance with Sharia Law," he said.
"I have no hatred for my sister I even gave her a beach plot worth Sh40 million. I have accepted that I am alone and I have no friend or brother. A mother cannot deprive all the three properties of his other child and bequeath them to one who has never been around," he said
Justice Omollo is set to deliver her judgment on November 6, 2019.