Africa's cities of the future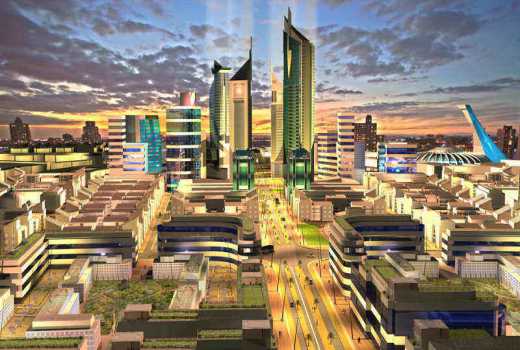 Smart cities, also known as satellite cities, have emerged across the world as the answer to a changing lifestayle and time. And Africa has not been left behind.
Konza city, also known as the Silicon Savanna, in Kenya is one of these unique cities that have been touted as the future of housing. These cities can be described as urban cities driven by superior technology.
The satellite cities can be found on the periphery of heavily populated cities driven by modern development.
These types of cities are mostly funded by the government. Countries such as Kenya, Nigeria and Rwanda have already incorporated them in their national agendas.
The Nigerian Smart Cities Initiative was launched in June this year. The aim of this body is to encourage the use of ICT in urban infrastructure.
The smart city is basically a technological solution to modern urban population problems. Some of the features that can be found in these cities include: public spaces with free Wi-Fi, solar powered electricity, internationally inspired amenities, automated lifted car parks and lifts.
In addition to this, artificial intelligence is being used to run crucial networks and infrastructures like electricity, communication, water and transport. These cities use ICT to provide and develop important aspects like the environment, economy and social needs.
Some of the perks the inhabitant of this type of city are likely to have are; a luxury car, and the latest smart gadgets in the house.
The kind of look a smart city is likely to have include private condominiums, luxury apartments, landscaped boulevards, well paved footpaths, and tarmacked roads.
Konza City, Kenya
The African Silicon Savanna is projected to cost approximately Sh1.2 trillion. The development of Konza Technological City was incorporated in the government's Vision 2030 manifesto.
This smart city is located 60 kilometres from Nairobi in Makueni County and covers almost 5,000 hectares in the former Malili Ranch.
The Vision 2030 project was approved by the government in 2008. It is expected to be a first-class innovation and technology hub that will sustain itself.
Konza City will have a business life cycle that will accelerate the creation of start-ups.
Moreover, it will encourage and support a creative economy in all sectors which will lead to jobs and wealth creation in a digital platform.
The smart city will use Big Data and the Internet of Things in innovation and to support infrastructure.
Vision City, Kigali, Rwanda
This is a project of the Rwanda Social Security Board. The largely residential smart city is expected to cost about $150 million (Sh15 billion). It is the largest residential housing project in Rwanda's history.
The city covers about 158 hectares of Gesabo District. The commercial and economic hub is only three kilometres away from Kigali's CBD.
Eko Atlantic, Lagos, Nigeria
This Nigerian smart city is being built on land reclaimed from the Atlantic Ocean. It is located on Victoria Island, close to Lagos city. The city covers 10 million square metres.
Once it is completed it is projected that it will be inhabited by about 250,000 people.
Eko Atlantic is expected to present a wide range of housing; from luxury apartments to moderately priced accommodation. It will also feature Marina District, which is a world class commercial and residential hub.
The satellite city will also feature an international school.
King City, Ghana
Apart from King City, Ghana has two other smart cities which include Appolonia and Hope City.
King City covers about 2,500 acres of land and is located 10 kilometres from Takoradi harbour, the main export port for Ghana and one of two in the country.
This smart city is strategically situated in an area associated with energy and mining.
The city is expected to boost commercial and residential growth in the area.
Also dubbed as 'The city of lights', Appolania city is located on 2,325 acres of land in Accra city. The city offers plots for buying, homes, and a business park.
Hope City is also located in Accra. The acronym HOPE translates to Home, Office, People and Environment. The city is expected to incorporate the tallest skyscraper in Africa.
Waterfall City, South Africa
This smart city is located in Gauteng City which is between Pretoria and Johannesburg. The city has incorporated the Waterfall Park, Mall of Africa, and Waterfall Corner among other economic amenities.
The revolution in outdoor living
Many people are looking forward to prepare and revitalise their gardens ready to enjoy living to the full around their homes or any living spaces