Golden daffodils, the dazzling garden beauty
Daffodils are garden classics, partly due to the ease with which they grow. They are also just so beautiful. Few garden views beat that of a host of golden daffodils beside a pond, fluttering and dancing in a gentle breeze.
Native to Mediterranean countries, daffodils belong to the genus Narcissus, a name believed to be rooted in Greek mythology. The story is that young Narcissus was blessed by the gods with eternal good looks and immortality, provided that he never looked at his own reflection.
One day, he caught sight of his reflection in a pool of water and he was unable to move himself away from the image. He died and a Narcissus (daffodil) plant sprouted on the spot where he had stood gazing into the water. The droopy heads of daffodils are also said to resemble Narcissus staring at himself in the water.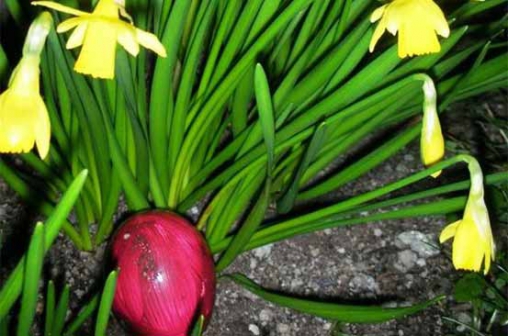 Daffodils are also synonymous with Easter in many northern hemisphere countries, where they bloom around the Easter holiday. They are often used in Easter floral decorations and the German name for daffodil - Osterglocke - literally means "Easter bell".
There are over 13,000 hybrids of daffodils and, while most are shades of yellow, they also occur in shades of orange, pink, white and even lime green.
All daffodils consist of a central trumpet-shaped corona, surrounded by a ring of six flowering leaves, known as the perianth. In many varieties, the corona and perianth differ in colour.
Growing tips
Daffodils grow best in filtered shade or a spot where they are sheltered from the midday sun. An East-facing bed that receives morning sunlight and afternoon shade is ideal.
Similarly, an East-facing hillside is also great as well as raised beds.
Prepare your soil by digging it up to a depth of about 20 centimetres and working in plenty of compost and bulb food. The compost helps to improve drainage and adds valuable nutrients to the soil. Do not use fresh manure as this can burn the delicate bulbs.
Daffodil bulbs are teardrop-shaped, much like an onion bulb. Plant them with the pointy end facing upwards at a depth of about three times the height of the bulb (usually about 12 centimetres deep for a medium-sized bulb). Plant the bulbs 10 centimetres apart and cover well with soil and a layer of mulch.
Maintenance
Feed your daffodils with phosphorus-rich fertiliser once every two weeks and water well once every four days. It is important to keep the soil moist, but not soggy while the bulbs are developing. Do not feed your bulbs with high nitrogen fertiliser as this encourages the growth of foliage at the expense of flowers.
Daffodils are seasonal, but provided they are planted in well-draining soil, their bulbs can be left in the soil during the dormant period and will sprout again the following year. The bulbs should, however, be lifted out once every five years to prevent overcrowding. Healthy daffodil bulbs will have developed a number of "baby" bulbs beneath the soil. Lift the bulb clumps gently from the soil and gently pull the baby bulbs apart from the central clump. Store the bulbs in a cool, dry place and replant elsewhere.
Once dusty township, Mbita now home to breezy hotels
The township, separated from Rusinga Island by a channel barely 100 metres wide (the Mbita Causeway), has experienced accelerated growth since tarmacking of the 40-kilometre Mbita-Homa Bay Road, completed eight months ago and the commissioning of reliable ferry services.