Construction of lawyers' convention centre on course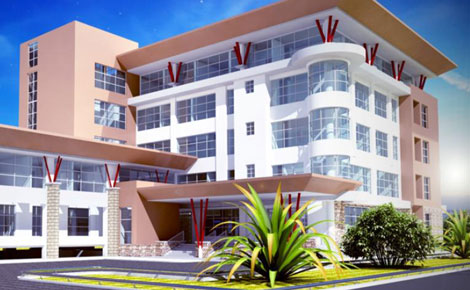 The architectural impression of LSK International Arbitration and Convention Centre.
Plans to construct the Sh1.2 billion International Arbitration and Convention Centre in Nairobi's South C Estate is underway after the High Court in Mombasa and Nairobi dismissed two separate cases filed by disgruntled Law Society of Kenya (LSK) members.
The unhappy LSK members moved to court to object what they termed as compulsory contribution of Sh39,000 by each member.
They accused the LSK Chairman Eric Mutua of imposing the charges without consent from all LSK members. The lawyers are expected to pay the amount in two to three years, depending on the number of years they have been in practice.
In a communique to LSK members, Mutua revealed that the resolution to build the ultra-modern building was arrived at during a Special General meeting on September 27, 2014.
South C is transforming into a mixed residential and commercial centre, with Government agencies, private company offices and apartments co-existing side by side.
The sewerage system in South C is fairly good. However, many roads leading into the estate are in a state of disrepair.
The land on which the project is being put up is off Popo Road and was allocated to LSK in1982 by former President Daniel Moi.
According to Mutua, the ultra-modern building will have a large ground floor hall that can accommodate up to 500 people, 48-five star hotel rooms, the LSK secretariat, a business centre, three floors for office space, a lounge, kitchen and dining hall.
Facilities
The project, which will take two years to complete, will also have two underground parking bays for 200 cars, a 300-capacity restaurant, video conference room with a Skype facility, a library and a penthouse.
Other facilities include a court room, large collapsible arbitration room which can accommodate up to 30 people, 11 arbitration rooms to accommodate ten people each and six retiring rooms.
Opposition
Some LSK members opposing the development also questioned its feasibility, arguing the project risked being attached for defaulting in loan repayment.
However, according to project manager M/S Mwanzoni Limited, the project is economically viable.
Mutua said further: "The financial institutions consulted by the project manager were willing to fund 70 per cent of the project provided that the society contributed the remaining 30 per cent.
The project manager has zeroed in on two financial institutions — Housing Finance and Kenya Commercial Bank — on account of their competitiveness and conditions precedent."
A feasibility study in November, 2013 said the project's South C location, a largely residential area, might pose a challenge when marketing the building as it may not be easily visible and directly accessible from Mombasa Road.
The study also said that the numerous established and upcoming hotels on Mombasa Road and in South C would offer serious competition.
So would upcoming buildings like the Ministry of Energy building and the Kenya National Examinations Council building, if they choose to let their office space.
Living large in a small space
If you live in a bedsitter or studio apartment, do not limit yourself. Dream big and be bold because the options are endless and the market today has something for all sizes, writes MKALA MWAGHESHA