Why the wealthy are moving out of posh suburbs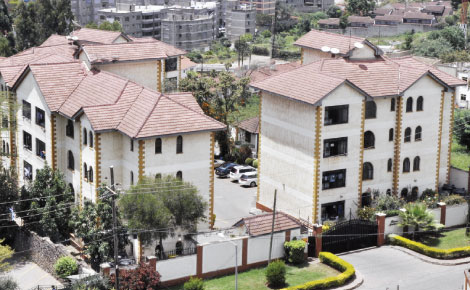 Houses in Kilimani and Hurlingham, Nairobi. [PHOTOS: WILBERFORCE LKWIRI AND GILBERT OTIENO/STANDARD]
With the serenity, tranquillity and security in Nairobi's high-end neighbourhoods gone after being invaded by developers, there seems to be little motivation remaining for the rich to spend millions on a house in these estates, writes AUSTINE OKANDE
Even after 50 years of independence, Nairobi's planning still largely mirrors its colonial era image. The capital's initial planning strategically positioned the white settlers in the North and West parts of the city, areas that later earned the name leafy suburbs.
In a book titled, Capital Cities of Africa, authors Samuel Owuor and Teresa Mbatia, argue that the Europeans settled for the North-West parts of the city because such areas were situated at a higher altitude with richer, volcanic red soils.
Another researcher, Milcah Achola, in her 2002 MA titled, Colonial Policy and Urban Health: The Case of Colonial Nairobi, said: "Africans and Indians were mostly confined to the plains East and South of the railway line where non-porous black cotton soils prevail. These areas were unhealthy as a consequence of frequent flooding, high incidence of malaria and neglect of municipal services, such as refuse and sewage collection."
Nairobi's leafy suburbs were strictly planned for residential purposes, where a single bungalow would lay on one or more acres of land with a neatly done lawn. These areas, according to the Nairobi City Development Ordinances and Zones Guideline, were under controlled development.
However, in the recent past, the leafy suburbs of Nairobi have witnessed a high rate of growth that has seen demolition of bungalows to pave way for the construction of office parks and apartments.
REZONED
Collins Kowuor, the immediate former chairman the Institution of Surveyors of Kenya, says that sections of the city that were previously designated as residential areas had to be rezoned and many of these are now mixed user districts.
Rezoning has affected estates falling under zones three, four, five and six. They include estates like Kilimani, Kileleshwa, Loresho, Hurlingham, Lavington, Karen, Muthaiga, Westlands and Runda.
Rose Wacuka, Communication Officer at Karen Langata District Association (KLDA) says the association is concerned about the sub-division of land and the upsurge of developments recently witnessed in Karen.
KLDA's main concern is the uncontrolled sub-division of land in Karen that they claim has seen the estate lose it serenity, plunged land value and increased insecurity in the region.
KLDA argues that the developers in Karen have continued to disregard the Local Physical Development Plan of 2006 and have gone ahead to construct flats and bars in residential areas.
"The culprits are the defunct city council, the county government, Lands Ministry and some greedy landowners," she says.
Miotoni, Bogani, Karen Plains, Mokoyeti West Road and Karen Centre are the areas that currently host most of these developments.
City planners, on the other hand, argue that the growth of Nairobi, just like many other cities, is attributed to economic forces and population upsurge; and that it was inevitable for the posh estates bordering the Central Business District not to feel the effects of a growing city.
Indeed, it is projected that three-quarters of all the 1.7 million square feet of commercial space being delivered every year in Nairobi is in once serene suburbs of Kilimani and Karen.
DEMAND
Patrick Adolwa, deputy director, Urban Development Department, Nairobi County, was also quoted last year as saying: "As planners, when we see that there is increased demand for mixed developments, and it is viable, we re-zone them into mixed-user districts. That is why you now find many areas with residential housing and shopping malls, as well as offices."
John Karanja, a valuer and project manager at Lavington Apartments, said in an earlier interview that investors now prefer the leafy suburbs because of its proximity to the Central Business District (CBD) and functional infrastructure makes property investments in such areas lucrative.
Queen Kamau, who has been a resident of Lavington for 20 years, says that uncontrolled development in the estate over the years has stolen the beauty of Lavington.
"Today, the estate is much dusty, noisy and the traffic jam is just chaotic," she laments.
Harold Ayodo, a lawyer, argues that the Constitution provides for private ownership of property and when landowners in these leafy suburbs decide to sub-divide their parcels of land for sale, law to do so protects them.
However, in areas where homeowners are bound by a restrictive covenant, the private property owners' rights are limited as prescribed in the restrictive covenant.
"The restrictive covenants can also be enforced by developers and municipalities to protect property values and residents from cutting down trees or destroying historic elements," says Ayodo. "Once made, the written and signed agreements bind even third parties who were not party to the original bargain as a property right."
He says that prospective property investors should confirm whether there are binding agreements before purchase: "Purchasing such property means the owner is contractually giving up certain property rights that were entered into by the original seller."
WHERE IT STARTED
Kowuor, on the other hand, says the trend started with Kilimani and Upper Hill where bungalows were demolished to create room for flats, town houses and the minimum land size that one could own reduced to half an acre from an acre.
The sub-division of land, according to Kowour, has made land more affordable and profitable for investors. For instance, he says, in Upper Hill, half an acre goes for Sh300 million, while an acre goes for Sh500 million. In areas around Lavington, half an acre goes for Sh150 million, while an acre is Sh250 million.
"It is therefore profitable for investors to sub-divide the land before sale," he says.
Some of the earliest documented urbanisation problems in Nairobi that are still eminent in the city, according to city planners, included transport, housing, drainage and sanitation, water and sewerage, overcrowding, poor sanitation and unhealthy living conditions.
According to Kowuor, the county government should come in and regulate the development in such areas to avoid cases witnessed in Kilimani and Upper Hill where the roads have become too small and sewer lines and social amenities overstretched due to increased population.
LIVING IN CITIES
"In most cities around the world, the poor often stay closer to the Central Business Districts because it is convenient for them to walk to work as opposed to the wealthy that drive," says Kowuor, adding that the affluent in these affected areas are now relocating to outlying areas like Kajiado.
Wacuka also confirmed that they have witnessed some of the residents in Karen relocating to other posh estate.
Insecurity has also been a big challenge in these leafy suburbs, with residents blaming it all on increase in developments.
In February, media reports noted that police records showed that you could actually be safer in an apartment or flat in the middle- and lower-income estates than in posh estates such as Runda, Nyari, Karen or Kileleshwa.
Nairobi County Deputy Police Commander Moses Ombati argued that residents who live in posh estates are perceived to be wealthier than those in less affluent areas hence the regular attacks.
Rustic getaway at Sagana
Sagana is getting quite a bit of attention lately. It was part of high altitude training ground for First Lady Margaret Kenyatta as she prepared for last month's London Marathon for her Beyond Zero campaign.