Equity Financing profitable for developers
By Morris Aron
Twenty years of designing houses for clients was more than enough for Pete Muraya who six years ago quit practicing as an architect to become a property developer. Together with his wife Sue, they set out as property developers under the company Suraya Property Group. Little did they know of the challenges in housing industry.
George Laboso,Sales and Marketing Manager, S&L
"We intended to introduce middle-income gated housing concepts and price our houses very competitively," says Pete. "It wasn't long before we realised our dream may never materialise due to the high cost of land in and around Nairobi."
Like several other property developers who dared to enter the real estate business after 2000, the Murayas soon realised they had entered the fray at a time when land prices in the capital city were sharply rising. The change of regime at the turn of the Century had ushered a stable political climate leading to an increase in the number of real estate investors. It also saw tremendous growth in the number of people taking up mortgage loans, leading to high demand for property and a subsequent price escalation.
In Kileleshwa, for example, a quarter acre of land is currently going for up to Sh15 million. Three years ago, one could buy the same acreage for Sh7.5 million.
"Land prices in the middle and upper income neighbourhoods have risen sharply in the last six years due to increased demand and speculation," says Wilberforce Oundo, chief executive of Regent Management, a property firm.
To beat the prices, developers began experimenting with financing models. That is when equity arrangements began popping up.
This is how equity financing works. Most landowners in and around Nairobi have huge parcels of land but lack the capital to construct houses. On the other hand, real estate investors have access to capital. Through an innovative financing arrangement crafted by property and finance experts, the two parties come together through a property developer.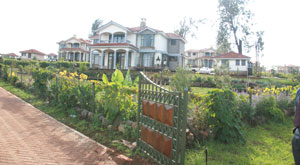 One of the posh properties developed by the Suraya Group. Photo: Courtesy
However, it is the Suraya Property Group that birthed the first large-scale property project by launching a Sh6 billion housing project in Nairobi in partnership with Standard Chartered Bank as the financier.
Government's Ability
"The State needs to come up with policies that will stifle the rise in land costs brought on by speculation," says Pete.
There are also concerns over the Government's ability to provide basic amenities such as roads, water and sewerage facilities in order to open up virgin land. The good news is that the quest by property developers has been heard at high places.
The Ministry of Housing recently announced plans to partner with landowners within a radius of 70 kilometres from the CBD and other towns where the ministry will fund the development of basic amenities such as water and sewage lines.
The Cabinet has also just given a nod to the draft land policy, which now moves to Parliament for debate before being made law. Key among the proposals is hefty taxation to any owners of idle land, which is a move meant to encourage development instead of speculation.
In addition, the policy will make it compulsory for the Government to set aside land in designated areas for property development. "We believe these new measures will encourage property development and at the same time open up virgin land in peri-urban areas in the process reducing the cost of land," says Tirop Kosgey, the Permanent Secretary in the Ministry of Housing.