Raila Odinga: The handshake did not destroy the opposition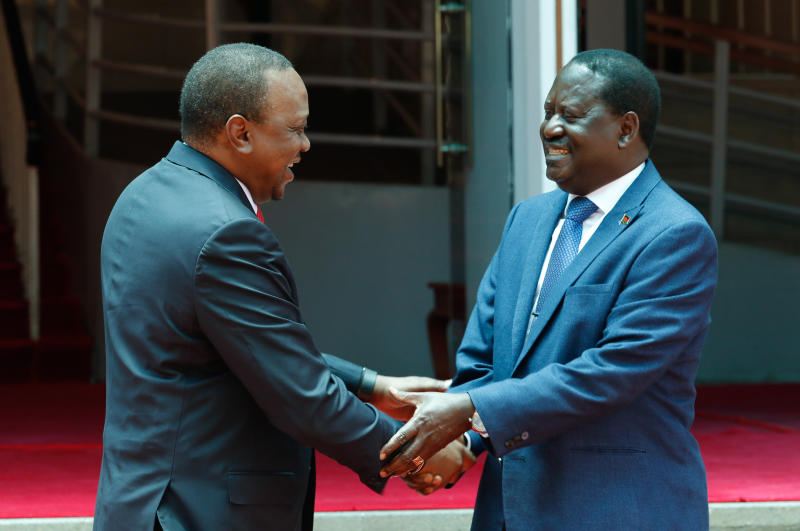 ODM leader Raila Odinga has committed to tackling corruption if he forms the next government.
Speaking at Chatham House in London yesterday, Mr Odinga blamed corruption for being behind the myriad of economic and social woes bedeviling the country.
"We acknowledge that even our troubles with debt are in part caused by corruption, kleptocracy, and State capture. We will mount a serious war on corruption. Nobody will be indispensable in the government," said Mr Odinga.
He spoke of his zero tolerance to the vice that had seen him, while holding position of prime minister in 2010, suspend two ministers to pave way for investigations into their alleged roles in corruption.
Raila said President Uhuru Kenyatta was being undermined by Deputy President William Ruto who had politicised the war against graft, making it difficult for him (Uhuru) to tackle corruption in government.
"I don't have this baggage and I will be coming in with clean hands," he said.
The former prime minister said that endemic corruption was not only limited to the public service but it had spread to the criminal justice system and investigative agencies and was behind the delayed delivery of justice, "if ever it is delivered".
The ODM leader rejected the idea that his handshake with President Uhuru Kenyatta had destroyed the opposition. Instead, he said the decision was prompted by the need to deal with a political and economic crisis that led to violence and divisions in the country.
Mr Odinga recalled occasions when he accompanied crowds carrying coffins with the bodies of his supporters who had been killed during the protests that followed the 2017 elections.
"There were boycotts over certain goods and companies. There were demonstrations, fighting and a lot of lives were lost. The country was on the brink of disintegration. That is really what compelled me to negotiate with President Kenyatta and agree on a truce," he said.
Mr Odinga also dismissed Dr Ruto's assertions that the opposition and government "are two peas in a pod".
He criticised the DP for spending Sh114.4 million ($1 million) during his recent trips to the United States and United Kingdom.
"There cannot be a government in opposition. He is travelling with government security. Everything is done for him officially. I have to pay my airfare to come here and with all the people who have come with me. None of them have been paid for by the government," he said.
The Azimio la Umoja presidential candidate said his mission "is to only continue the positive things from President Kenyatta's administration and not inherit the negative."
Raila said that after looking at the genesis and evolution of political disagreements and contradictions, the two leaders had decided to come together in an act intended to pull the nation together through what came to be known as the Building Bridges Initiative. "It is in this spirit of dialogue that His Excellency President Uhuru Muigai Kenyatta and I resolved, in March 2018, that Kenya's long-standing conflicts and disagreements among our communities and political parties could be resolved through dialogue," he said.
The ODM leader also spent a huge part of his speech condemning the war between Russia and Ukraine. He called for respect of sovereign nations and urged the United Nations to find a speedy solution to the problem through diplomacy and dialogue.
He said the war in Ukraine had dealt a blow to Kenya's economy with the country at risk of losing Sh10 billion worth of exports to Russia as a result of sanctions imposed on the country.
According to Mr Odinga, Kenya exports tobacco, coffee, tea, spices, live trees, plants, bulbs, roots, cut flowers, edible fruits, nuts and melons to both Russia and Ukraine. Additionally, Kenya also imports wheat, maize and fertilisers worth Sh40.6 billion from Russia.
"These might be equally adversely affected by the sanctions and the disruptions of war at a time our economy can hardly afford such stress," he said.