Battle of presidential running mates and spheres of influence
OPINION
By XN Iraki | May 22nd 2022 | 5 min read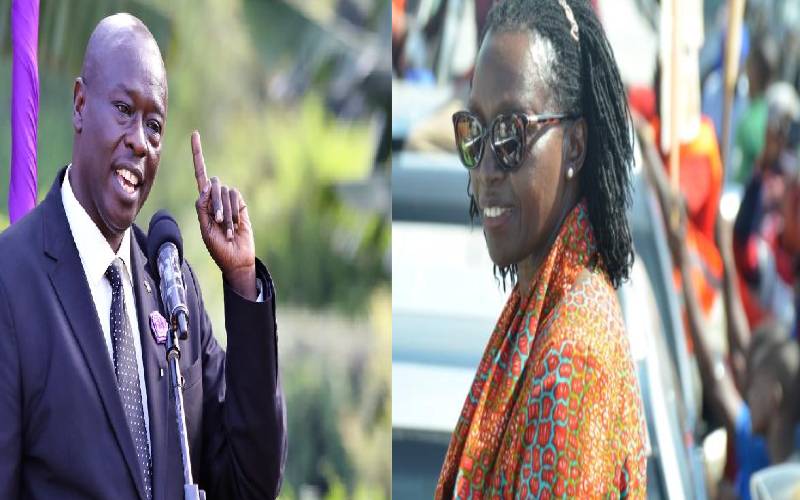 Battle of presidential running mates and spheres of influence
In an article published in The Standard on January 9, 2013, I asked: "Is Martha a President for the future?"
Then, Ms Karua was a presidential candidate vying on a Narc Kenya ticket. That future could arrive prematurely.
On April 22, 2022, I argued that a Raila-Karua ticket was similar to a Joe Biden-Kamala Harris ticket going by their ages and gender. Let's look beyond the 10-year prediction and soberly analyse what the Raila-Karua ticket means. I shall also be fair and talk of the Ruto-Gachagua ticket.
The Raila-Karua ticket was not a big surprise. It was long expected. There was no spike in the stock market index. There is a belief that she will bring in women's votes and central Kenya into the political fold.
It's assumed that women will vote for their own. Why then are we struggling with the two-thirds gender rule? Does it mean they have failed to vote for their own because the elective posts - from Members of County Assemblies to senators – do not have enough power?
Why would the prospects of a woman Deputy President (DP) excite us when Tanzania is way ahead with a woman president? When Germany, the UK or even India have had women leaders? We are playing a catch-up game, but at least it's a start.
Let's get into the psychology of voting. I doubt if women will vote for you just because you are a woman, they look at other factors. Why did Kirinyaga voters reject Karua? Doesn't charity begin at home or no prophet is accepted in his or her home?
The popular comment that Ms Karua was the only "man" left standing in the late President Mwai Kibaki's Cabinet could hurt her. Might that scare away male voters?
Let's also accept that it's hard to fight Ms Karua because of her gender and the possibility of being the first female DP in Kenya. Will the central region or the mountain follow the power? Will a region that had a president or deputy president for more than half a century be excited by having a DP? Why would a DP position excite a region which has given us three presidents?
Maybe Kenyans have read the Constitution well and found out that a Gordian knot ties the president and his deputy. This could be the source of excitement in the mountain region - that it will still be in the presidency. The Constitution is also clear on succession, just in case. The Karua selection dovetails into a popular narrative that men in the Mountain "proper" – read the former central province have been losing their power.
They are losing not just political power but even in their homes going by the number of children bearing their mother's name as a surname.
Siege mentality
Others stretch the truth that by having this region led by women, it will no longer be a political or economic threat to other regions. Having lived in America's Deep South, I can sense and see some truth in that.
This region is suffering from a siege mentality and feeling like a political orphanage. They want some political (and economic) security in return for votes. They cite neglect during the KANU era and post-election violence.
One question no one wants to ask loudly is if there was an invisible hand in the selection of Ms Karua.
My hunch tells me yes. How can we confirm that? Make the terms of the handshake public. Remember the Mt Kenya Foundation? Enough on the Raila-Karua ticket. Deputy President William Ruto curiously gave us the running mate before Raila Odinga.
Would he have changed his running mate if Raila named his first? I doubt. What options did he have? It seems to me that Ruto ran out of options and settled on a man who understands "the system" having worked for the defunct provincial administration.
Remember him saying he is a "yes sir" man? The other key contender Kithure Kindiki was on the periphery of the Mountain not "Mountain proper." Unlike Karua, where some invisible hands could have been at work, Ruto seems to have had lots of leeway in making his choice.
What will Gachagua bring to the political table? Ruto sees a mobiliser, an orator and a bold man.
He would represent the Mountain, but what else? It seems beyond that, the Gachagua excitement ends.
What of his legal woes?
The other side could embark on cleanliness as their philosophy.
Ms Karua's name has featured predominantly since multipartyism. And Gachagua's? Just Google both. Did Ruto by choosing Gachagua speculate that Raila would pick Peter Kenneth?
Was his choice of Gachagua an attempt to revive the Kibaki nostalgia and smite Kiambu at the same time?
Both Ruto and Raila might be overlooking something else. If the region is assured of a DP position, why then sweat over it?
The selection of running mates by both contenders from this region might kill the excitement and reduce the voter turnout.
The winner might end up being determined by other silent swing regions. I am thinking of North Eastern, the Lower Eastern and the Coast. Are there noted efforts to assuage other regions with non-existent positions or promising cabinet positions?
Now you know why the Building Bridges Initiative (BBI) was being pushed so hard by the handshake fanatics. If I were Raila, I would have chosen a mountaineer with political roots in the Rift Valley.
If I were Ruto, I would have chosen a mountaineer from the "proper" central region but much younger to buttress the "bottom-up" economic model. Both of the deputy president contenders have to bear with propaganda on their past. That will come in a deluge as we approach August 2022. Social media is already giving snippets. There are already lots of entertainment combining the names of the president and their running mates.
A deputy presidential debate could help get us insights into the thinking of Karua and Gachagua. What are their economic philosophies or do they tally with their bosses? For now, and objectively speaking Karua has a psychic advantage over Gachagua.
Did Ruto dance too early politically? Did the State leave him to run out of political steam slowly like a slow puncture? Kenyans will consider other factors beyond running mates. Top on the list is the cost of living, jobs and restoration of national confidence. Let's add religion. Let's not read too much into the running mate selection.
The sun will still rise from the east, taxes will be paid and work done. Back on January 9, 2013; we concluded: "She would make a great president and no doubt, lots of people, particularly corrupt ones would run." If the Raila-Karua ticket wins, the too-powerful women in Kenya will be Marthas.
EABL invests Sh5b in biomass plant
EABL Managing Director Jane Karuku (second left) said the biomass plant would help the brewer achieve a net-zero status and reduce its carbon emissions by 48,000 tonnes annually.