Farmers eye higher profits with easy to manage coffee variety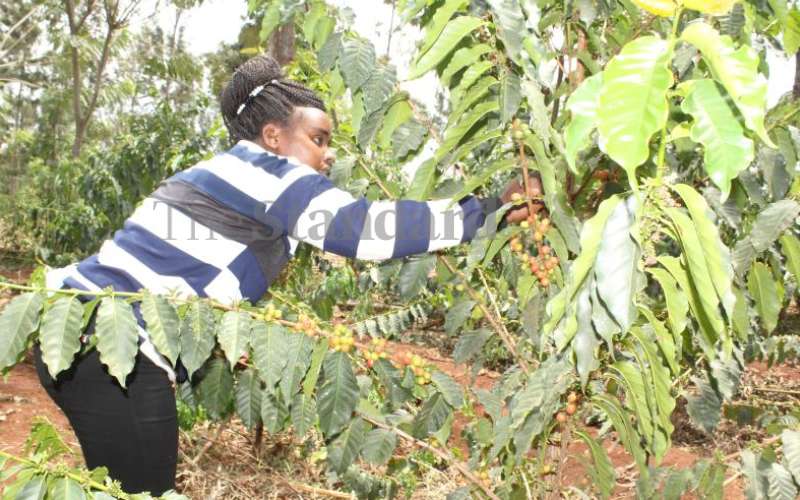 Frustrated by dwindling fortunes in coffee farming, a group of farmers in Meru is changing tack.
More than 200 farmers are a happy lot after they embraced the production of anaerobic coffee, which according to new KPCU Acting Managing Director Timothy Mirugi, is performing well in the international market.
Mr Mirugi said anaerobic coffee was richer in taste, hence its high appeal to consumers at the international level.
The anaerobic coffee does not have to be taken to a factory for pulping, fermentation, and other processes.
Since some of the farmers cannot access the factories easily, they use a traditional way to process their coffee. "After we pick the berries we spread them out in the sun to dry. This natural way of processing the coffee results in a rich, natural taste. Once the coffee is dry, the skin is removed by hand and the green berries stored properly before they are sold," said Catherine Rubara, one of the farmers.
Mrs Rubara says a single tree can produce up to 100kgs with proper care.
The farmers sell the coffee to Crowd Farm Africa, which has partnered with New KPCU to introduce anaerobic coffee farming in Meru and other neighbouring regions.
Charles Mutwiri, a coffee estate owner who has been training local farmers on proper coffee husbandry, and also distributing seedlings, said farmers do not have to incur the usual processing fees at factories.
"Many farmers had uprooted their plants because they were not productive or profitable. But after training them and distributing the new variety, things have started to look up," said Mr Mutwiri.
Samuel Mboroki, who has transitioned to the anaerobic variety, said natural coffee processing had been an eye-opening experience.
"But because we do not have a factory, we had to first have a ready market. We have a contract with Crowd Farm Africa, which collects our coffee immediately it is dry, for export," he said.
Crowd Farm Africa CEO Sammy Wachieni said they introduced anaerobic coffee to ensure farmers earn meaningful profits from their toil.
"We gave the farmers some seedlings three years ago after we agreed on a price and signed a contract. Each farmer has 200 trees or more," Mr Wachieni said.