Keumbu: The one stop market for banana and sugarcane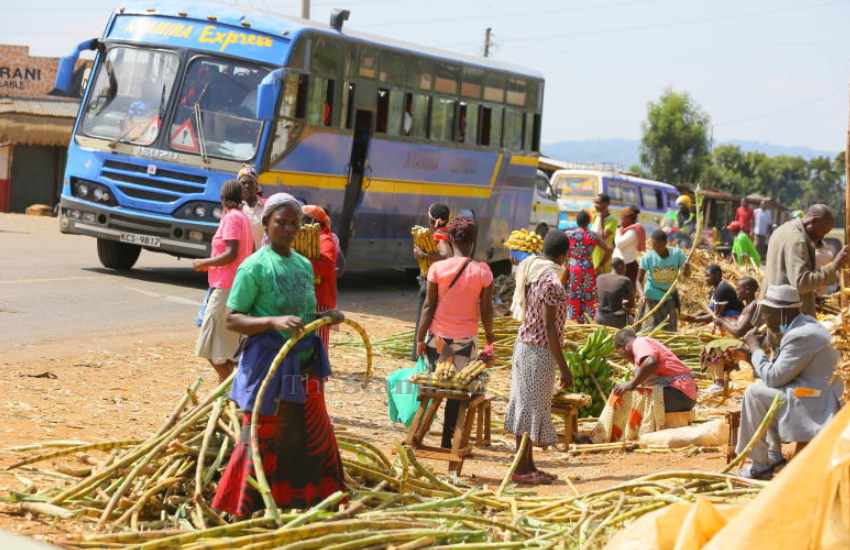 The name Keumbu sounds familiar to those travelling to Kisii, and a stopover in the area sums up one's trip to the county that prides itself as a source of agricultural produce.
Here lies a roadside market that has indirectly employed close to 2,000 people selling fresh farm produce.
Keumbu open-air market which stretches over a kilometre on both sides of the road, has been operating for years with many children having been raised and educated from the proceeds generated from the market.
Kisii is a leader in horticultural produce sold to major cities and towns countrywide. Virtually every household depends on this source of income either directly or indirectly.
Increasing poverty levels are compounded by the fact that there is little demand for farm produce in the area with most farmers unable to transport their harvests to major towns.
Middlemen continue to make a killing out of the sweat of small-scale banana, sugarcane and pineapple growers in Kisii. The middlemen are laughing all the way to the bank as the farmer, who quite often survives on one meal a day, gives them the fruit at throw-away prices.
However, Keumbu market along the busy Kisii-Sotik highway has remained a one-stop market for the thousands of struggling farmers and traders.
The market is home to all variety of bananas rich in carbohydrates. Sugarcane (omosi) is also another valuable farm produce sold here. It is rich in natural sugar.
Joseph Ombati and his wife Judy Gesare are among the many sellers who have sold these indigenous bananas in Keumbu Market for the last 12 years. They sell bananas, avocados and sugarcane. They travel far distances on a daily basis on motorbikes in search of fresh farm produce. They buy bananas from Magena and Nyamache area not less than 40 kilometres away.
There are approximately 500 women who sell farm produce at relatively cheap prices majorly to motorists.
On average, there are 40 buses plying the Kisii-Nairobi route on a daily basis. Most of these buses make a stop at the market as passengers jostle to buy either a bunch of sweat bananas or sugarcane. The sale of avocados is also gaining popularity in the market.
A bunch of bananas goes for Sh100 while three bunches of sweet bananas goes for Sh 120, a pineapple trades at Sh100 to Sh150 while and a medium-sized avocado is sold at Sh30.
Mary Kwamboka, a sugarcane trader at the market, says most farmers prefer getting the produce direct from the farms.
"The emerging trend has seen middlemen exploiting farmers. We deal with farmers who understand the market price; they will rather give us goods on debt than have them sale their produce to middlemen who will make a killing selling the produce elsewhere," says Kwamboka.
Kwamboka who has been operating at the market for the last 22 years, says a sizeable three to 12 hands of banana can trade at Sh800.
"We can a make a profit of Sh200. Thursdays and Friday are our peak days; either there are people travelling to and from Nairobi. We also have orders from major towns, we send virtually all farm produce as parcels." She uses a minimum of Sh200 as fare but she can also make a profit of Sh3, 000 per week when business is at its peak.
Being a mother of five, Mary Kemunto has managed to educate her children to university level. With the support of her husband, she says they have managed to put a permanent house at their Sameta rural home. Another vendor, Norah Ondimu, adds that poor road network remains a major challenge for their business.
"Most farms are located deep in remote areas. Transporting goods to the market is challenging. We spend two days at the farms collecting the produce and the remaining days of the week we stay at the market," Ondimu says.
The County Government of Kisii through Governor James Ongwae has built a bus park to avoid congestion along the road and occasional accidents. "Other than the bus park we are doing proper market segmentation that will lead to increased sales. We have done lighting."
The governor says the area government has opened more than 200 kilometers road leading to Keumbu market. A modern ablution block has also been put up.
"We are intending to open some roads to the market, put lights all over the market, and put water throughout the market," said Mary Areba, the Keumbu Sub-County Administrator. With over 1.5 million people in Kisii County, the region is well known for producing indigenous bananas and sugarcane that are consumed nationwide and some parts of the outside world.
With addition in value these products will find market in larger Europe. According to the department of Trade, Keumbu market is among the leading markets in terms of revenue collection.
The county government has already put up a banana processing plant in the town. The national Government is also putting up a banana cold room at Kiamokama area, Nyaribari Chache. Increasing banana productivity in the agriculture sector is a step towards enhancing food security in the country which goes in tandem with President Kenyatta's Big Four agenda.
According to Benard Omosa, the county revenue chief officer, the devolved unit collects over Sh1 million every month from Keumbu market largely from the sale of bananas.
"We have plans to put a modern market at Keumbu to accommodate more venders and other traders," he said. The Kisii banana factory is already complete with the contractor set to equip the place in the current financial year.
The factory is situated at the Kisii Agriculture Training College, less than three kilometers form Kisii Town's Central Business District.
The European Union in collaborating with the national and county government to put up a factory to a tune of Sh196 million.
Over 5000 hectares have been collectively been put under banana plantation through individual farmer initiatives with a production rate of 19 tonnes of green fingers per hectare.
The factory is projected to process up to 80 metric tones of raw banana fingers per day and is poised to eliminate losses banana farmers currently incur by selling their produce direct from the farms.
Jasper Nyakundi, the director for Value Addition, said the completion of the factory will boost the implementation of the banana value chain.
"Farmers have embraced value addition. We have reduced land sizes in the county and the only way forward is to embrace modern farming," said Nyakundi.
Some farmers have benefitted from small-scale value addition such as the making of crisps from the bananas.