Motorists risk hefty fines over 'fancy' number plates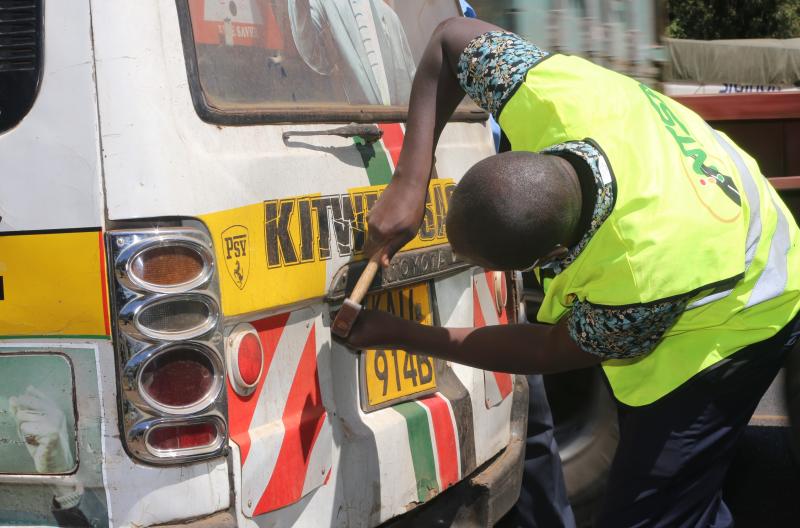 Motorists found with illegal number plates on their vehicles risk a Sh300,000 fine or a maximum of 12 months in jail, or both.
The police and the National Transport and Safety Authority (NTSA) say there has been increased use of what they call unofficial number plates.
"No motor vehicle or trailer registered under this Act or driven under the authority of a general dealer's licence shall be used on the road unless there is fixed thereto in the prescribed manner the prescribed number of identification plates of the prescribed design and colour on which is inscribed the identification mark of the general dealer's licence," a section of the new directives reads.
Ceases to be used
The Kenya Police Service also advised motorists that when a vehicle ceases to be used on the road, the owner should surrender the identification plates to the Registrar of Motor Vehicles for cancellation.
On Monday, a multi-agency operation embarked on a crackdown of vehicles flouting the rules, focusing on Lang'ata, Kayole, Dagoretti, Embakasi, Kasarani and Starehe in Nairobi.
Of the 83 vehicles that were seized for various traffic offences, 15 had unprescribed number plates. The operation continued yesterday and by 11am, the Authority had confiscated two unofficial plates.
Commissioner of Police Duncan Ochieng said the operation will continue up to Friday and possibly extend to the rest of the month.
"We are just enforcing traffic laws and regulations. Most vehicles on our roads are not compliant. Those not following the law will be arrested and taken to court," said Ochieng.
Further, he said police were are also checking road service licences, insurance, un-roadworthy vehicles, observance of the Covid-19 protocols and all other traffic violations.
The police said most drivers of the Public Service Vehicles (PSV) do not have their badges and road service licences.
"In our analysis we found that the number of violations in Nairobi were much higher than other regions, therefore we decide to focus on Nairobi," said Wilson Tuigong, Deputy Director in charge of Safety Compliance, Driver Training and Testing at NTSA.
Ochieng warned motorists ignoring the official plates to make cars look fancy. "The initial plates are issued by the NTSA, then somebody goes ahead to make his own so that the vehicle can look fancy. That is what we want to avoid because it is illegal, the vehicles have the original number plates," he said.