Tuskys, suppliers unveil rescue plan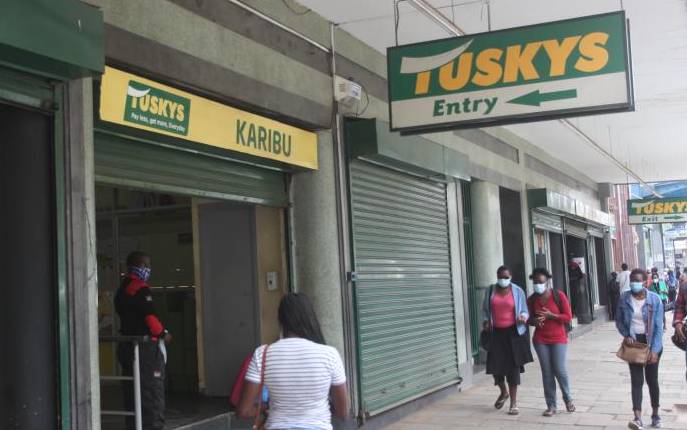 Troubled retail chain Tuskys supermarkets has laid out a rescue plan as it seeks to woo back jittery suppliers to prevent more empty shelves.
More branch closures are imminent with the supermarket chain saying it would no longer hold on to non-performing outlets "to keep a strong image" as it rethinks its business strategy to stay afloat.
A group of about 20 suppliers have also proposed to have their debt converted into equity that will see Sh500 million raised for the business.
Tuskys also seeks to open a third-party escrow bank account linked to the supermarkets' tills that will solely handle supplier cash.
Minutes from a meeting with key suppliers availed to The Standard show how the troubled retailer has in the past few weeks sought to restore supplier confidence.
Over 35 suppliers led by top executives were present in the zoom meeting including Chandaria Industries, Rai Group, Brookside, Bidco, Nairobi Bottlers, Kevian, Broadways and Kenchic among others.
The meetings come ahead of the expected capital injection by strategic international investors. The investors are expected to be approved "quickly" after the family accepted to sell a majority stake.
Today, Tuskys continues other suppliers meeting. In the previous one, the retail chain's Chief Executive Dan Githua told supplier the retailer was operating "sub-optimally" owing to low stock levels.
Customers have been complaining of empty shelves in most of the branches with essentials such as sugar missing. "Suppliers have continued to be wary and consequently stock levels have been declining hence our continued trading at a sub-optimal level," said Githua in the minutes seen by The Standard.
"With the equity capital injection and with additional support from suppliers, our desires are to reverse these trends for the benefit of all stakeholders."
The transaction advisor told the suppliers that "firm offers" from "credible international investors" were on the table with two more offers expected by this weekend. "The offers will be tabled to the board, the family and bank with the expectation of approval quickly," the advisor told the suppliers.
"The board is working to obtain an irrevocable letter of undertaking signed by all shareholders and backed by power of attorney to make this process flawless and to enable equity injection in the shortest time possible," said the advisor.
Suppliers were also assured that the new investor was "keen" to work with them.